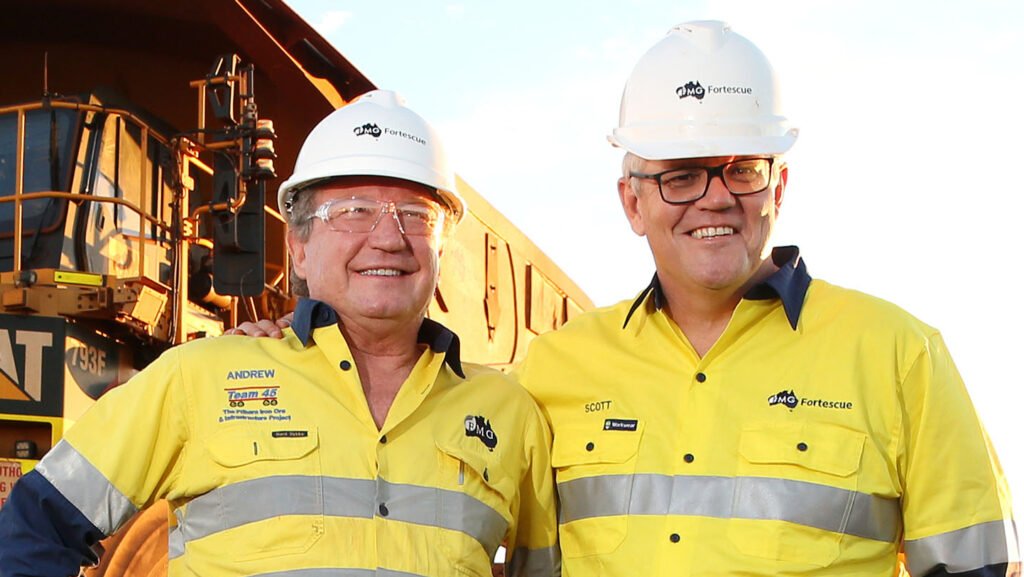 By David Piepers


---
From the inner city to the Upper Hunter, things are heating up – and not just because of all that climate change we're doing nothing about. We may still be a year out from our chance to finally express our views on the current government in a Federal Election, but make no mistake, the campaign is well and truly underway.
It should come as no surprise that Scott Morrison has started drawing electoral battle-lines – the politics of division have always served weak leaders well. He's ducked and weaved the storm of sexual assault, sexual misconduct and arrogant ineptitude with all the skill of a Japanese game-show contestant. But those scandals, combined with a bungled vaccine roll-out that was supposed to benefit his key constituents (read: old people), means the approval rating is finally starting to take a hit.
Satisfaction with the PM dropped seven points in two weeks, and he also suffered a drop in his status as preferred PM. It's true that these results haven't correlated in any significant boost to the ALP's election prospects, or the public perception of Anthony Albanese, but it means, finally, that the smug, smirking man in charge might actually have to start doing more than invoking his wife and building shit from Bunnings to start winning hearts and minds of people who are finally emerging from the pandemic haze and wising up to the torrent of shithousery.
Who would have thought that the bloke so cocksure of himself as to bring a LUMP OF COAL into question time would fall back, once again, on climate change to scare and shore up his supporter base of the under-informed and overpaid? Oh wait – everyone? Never mind then.
It should come as no surprise that the PM has come out with his hands up, reminding his devoted followers that he's not the enemy – it's the people in cafés and wine bars, from Marrickville to Melbourne, who are foolish enough to want their government to finally do SOMETHING about climate change policy. Those people who are foolish enough to live in electorates commonly held by the ALP or Greens.
Those bastards, I knew it was them all along.
The comment came in the midst of the PM's speech to the Business Council of Australia, over 400 of those upstanding corporates who fund election campaigns and have grown fat off tax breaks and the JobKeeper payments they were fortunate enough to keep and turn into dividends.
But if net zero isn't going to be achieved in densely-populated areas that don't happen to vote for Morrison, where WILL it be achieved?
"In places like the Pilbara, the Hunter, Gladstone, Portland, Whyalla, Bell Bay and the Riverina. In the factories of our regional towns and outer suburbs."
It's a unique list of places from all around Australia, a broadly-targeted statement, right?
Don't be silly. All of these electorates have a heavy reliance on mining, manufacturing and/or agriculture, and all BUT ONE are held by the Liberal or National party at Federal level. The one not held? The Hunter.
HUNTER TO HUNTED
The Hunter, about two hours north of Sydney, is a federation seat, first held by our first Prime Minister Edmund Barton who, presumably, didn't have to worry about ministers masturbating on desks. But it's been a stronghold for the ALP for over 100 years, since it was won by Matthew Charlton in 1910.
For the past 25 years it's been served by the ALP's Joel Fitzgibbon, who won the right after the retirement of the previous MP, his father Eric, in 1996. At the Federal level it's been relatively safe and stable – despite a huge swing to One Nation (of all parties) in the 2019 election, the Nationals still haven't gained any momentum there in the Federal arena.
At the State Government level it was a similar trend, albeit to the other side. The Nats have held the seat since the Country Party days back in the 1930s, and Labor have had little success for over a century – but all that could be about to change.
In an almost unprecedented situation in Australian politics (SARCASM), National Party MP Michael Johnsen was forced to resign after being accused of raping a sex worker in 2019. Though he vehemently denies the rape allegation, an ABC investigation also revealed he had offered the sex worker $1,000 to attend State Parliament for sex and sent a number of lewd texts and obscene video messages WHILE PARLIAMENT WAS SITTING. So he'll probably be promoted to Federal Parliament in a year or two.
Now the Upper Hunter electorate faces a by-election, and for the first time in a long time, the Liberal Party is likely to lose. Not only that, defeat will ensure that Premier Gladys Berejiklian (herself a former Minister for the Hunter – a time during which she 'ALLEGEDLY' profited significantly from the region and her close personal friend, developer, climate change denier, bastion of corruption and former Lord Mayor of Newcastle Jeff McCloy – we'll cover that another time) is left in charge of a minority government – something that seemed unfathomable just two years ago.
Then there was the appointment of Malcolm Turnbull – by the State Government – to the chair of the NSW Net-Zero (there it is again) Emissions and Clean Economy Board. Were they finally seeing some reason or at least opening themselves to the ideas of a former PM who has been clear in his environmental stance for a long time?
No. Within a week of being named, the offer was rescinded and State Environment Minister Matt Kean said it was because Mr Turnbull was 'too divisive'.
Perhaps it was because one of Turnbull's earliest stances in the role was to speak up about the over-abundance of open-cut mining and its effect on the air quality of Muswellbrook, a town in which he owns property located in… wait for it… the UPPER HUNTER.
Meanwhile Deputy Premier John Barilaro claimed the data Turnbull was referring to was 'manipulated', calling Turnbull 'thick-headed' for not toeing the party line and having no interest in 'what is good and right for the economy'.
It's this strategy of putting the economy at odds with the environment, like some twisted Sophie's Choice, that is one of the biggest reasons so little is done in the field of environmental politics. God forbid our policy makers should have the talent to formulate, or at least aspire to a plan that works to serve both the economy AND the environment. How ridiculous.
It was ALMOST like Turnbull was hired just so he COULD be fired, as a way for the Government to show people from blue-collar areas with a heavy economic reliance on mining and other industries (like the Upper Hunter) that they wouldn't be spoken down to by silver-haired, charismatic inner-city people who would more likely be found at… that's right – cafes and wine bars.
But why does the Upper Hunter by-election matter federally?
The Upper Hunter electorate has NSW's HIGHEST proportion of workers employed in the mining sector (15.4 per cent) and the fifth-highest in agriculture (10.9 per cent) – but the focus on gas and the desire for new coal mines have created a rift between these two industries in the community, especially as resource wealth is unevenly distributed among its members.
The Nationals are clearly nervous and desperate, given the fact they've already been caught registering websites under the domain names of rival candidates, telling voters that Labor would be preferenced if they voted for them, and establishing another site claiming that the Labor candidate Jeff Drayton, himself a coal miner, was 'against' the coal industry. Huzzah for integrity.
If anything, the past few weeks have shown us the ALP has definitely NOT abandoned the coal industry, in fact going to lengths, particularly through Fitzgibbon, to reaffirm the importance of coal to the economy, despite the decrease in demand, in an attempt to stop them being written off in the eyes of industry workers in such dismissive terms as those used by the PM at the BCA.
Naturally the NewsCorp platoon has also been engaged. Just days after a recent opinion poll was published reporting the PM's fall from grace, and before he'd even made his comments at the Business Council, bastions of impartiality Joe Hildebrand and Sky's Caleb Bond discussed how Unionists see the modern ALP as 'too woke, too green lefty and stuffed full of inner city yuppies'. It's amazing how well that assessment fits with Morrison's 'cafes and wine bars' analogy and tries to turn the ALP supporter base on itself.
It's true that the ALP has a long list of problems they need to sort out to form a cohesive opposition capable of winning the next election, but for Morrison and his attack dogs to be on the front foot already shows a level of fear nobody anticipated. By bringing in his 'us against them' rhetoric already, pitting those in the densely populated inner cities against middle-class suburbanite families and rural Australians, he's establishing the enemy early – and it's you! Or at least PROBABLY you, from what I've been led to understand about The Shot's readership.
By standing firm on his flimsy environmental alternatives and reluctance to guarantee anything by 2050, despite our growing international isolation on the matter, he's seen as a trailblazer standing up to the 'woke, green lefty' place the rest of the western world is trying to become.
We're failing internationally – even the US and China are trying to make progress on the issue these days – but Morrison is likely weighing it up and assuming that most of his fans would be happier with the way we're surviving the pandemic than whether or not we're dealing with some alleged 'climate hoax'.
For all his guffawing, smirking and apparent ineptitude, he's also very brash and calculating – or at least the people around him are. He knows the bare minimum he needs to do to ensure electoral success, and we've never had a PM better at doing the bare minimum. Who needs progress and the fight for change when maintaining the status quo and turning those who want change into the enemy is SO MUCH EASIER?
Morrison knows he won't win any hearts and minds or persuade those who were never going to vote for him in the first place. That's why he doesn't have a problem with low and middle-income Australian working families staring down the barrel of tax hikes that will reduce their earnings. What he's doing it shoring up his voter base, and he's starting early.
While the results of the Upper Hunter by-election will have a direct impact on the shape of the NSW State Government and little impact in practical terms on the PM, it's an early test of a strategy we'll only see more of as we trudge towards an election.
Once again climate change, one of the biggest issues facing our planet and civilisation, will be reduced to little more than a tactical ploy to generate fear and outrage.
The issue deserves better, and so do we.
Share this story: