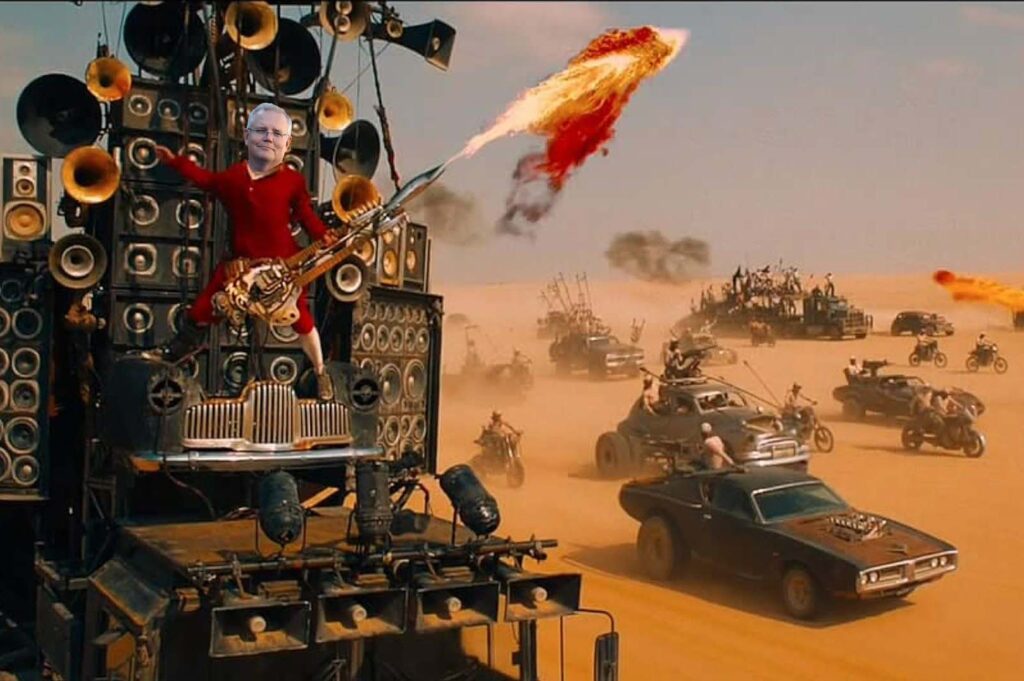 By Matt Harvey


---
It takes a village to raze a country, no one man could do it alone and here at The Shot, we want to salute the Coalition for forming a united front with a single vision for Australia, straight out of the Mad Max franchise.
Who could blame them? George Miller's desert hellscape of scarce natural resources still has a lot of access to petrol. And it was an international ratings hit, bringing an economic return which they are definitely all for, plus it forms a clear picture of what Australia is heading towards for the rest of the world. Our mission statement if you will.
The Coalition has had a variety of approaches to Australia's energy needs and as of 2020 we are the world's largest exporter of coal and liquefied natural gas. If only we had oil, we'd have a environmental disaster hat-trick.
For context Australia accounts for 1.3 percent of global greenhouse gas emissions and is the fourth-largest coal producer, behind China, India, and the United States.
Coal is now Australia's most valuable export, valued at $46 billion in 2018. Australia's LNG exports added $33.6 billion to the country's economy in 2019, a mere $65.7 billion less than the combined arts sector in Australia. Mind you, the arts are no replacement for the power generated by coal, unless we can harness the hot-air generated by Hughsey's rants over Dictator Dan as a sort of avant garde windmill until we finish upgrading our renewable.
These numbers mean Australia is one of the world's biggest climate change profiteers, if you include the emissions of exported fossil fuels on Australia's balance sheet its share of global emissions goes up to 3.3 percent.
People are giving Scott Morrison a hard time for the magical tech that doesn't exist, and yeah, that is right to do. Keep doing that. But there is a much more valid criticism, the driver of The Coalition's policy is the idea that the future will be 'technology, not taxes'.
However, the Coalition has over three Prime Ministers and seven years of governing continuously defunded Research and Development (R&D) of the "technology" that they now proclaim will be our saviour.
Here's a bit of a list. To kick it off, we're going right back to where it all started, back in time when the biggest technological atrocities were the 'Harlem shake' and Edward Snowden's NSA leaks, 2013 when the man who would go on to say Australia wouldn't invest in wind energy because they are "dark satanic mills of the modern era".
Prime Minister Tony Abbott
May 14, 2014 – The abolition of Australia's renewable-energy agency (ARENA), as well as cuts and job losses amongst scientists at the government's science agency, the Commonwealth Scientific and Industrial Research Organisation (CSIRO). The Australian Research Council (ARC) is also hit with a $74.9 million budget cut over three years. While 181 ARENA projects continued to be funded, new projects did not get support.
July 17, 2014 – Axed the carbon tax with no viable policy to address climate change or Australia's emission targets. Look at this chart! That was working to cut emissions! What the fuck were they thinking?!
In fairness, 'Ax the Tax' did rhyme. And economic strong-arming is only an acceptable policy when used to tell those on welfare how to spend their money.
But yeah. Let's not invest in that.
Abbott, who has previously described wind turbines as "visually awful", said the Government believed the CEFC should instead be investing in "new and emerging technologies", just not THIS new and emerging technology because its so awful to look at.
August 11, 2015 – Reduced Australia's carbon emissions reduction target.Abbott said the move was part of the government's objective to put jobs and growth first. And I am not a entrepreneur but if the semester I did of business school taught me any lasting lesson it was the best way to stimulate jobs, growth, and economy, it is to stagnate the development of all new technologies. After all, we already have things, things we built. And as time goes on they will get worse and worse we will need more and more people to maintain them at their minimal terrible capacity. That is how you create jobs!The reduction of the target was down to 26-28% in emissions reductions by 2030, from the previous 30%. This is the same 26% that caused Australia mass embarrassment at COP26, left Scott Morrison talking to an empty room, and that Morrison claims we will beat, maybe hitting 30% taking us no further than we would have been seven years ago if we had just left it in place.But the message was clear, we don't want a dinosaur like Abbott, we need someone with an eye for the future. Someone who dreams big who looked to initiate the National Innovation and Science Agenda, who worked to promote STEM education, Remember STEM? Its been so long, who was set to increase venture capital funding for new start-ups, and launch an "ideas boom". So what was the first great idea?
Prime Minister Malcolm Turnbull
 October 15, 2015 – Approved a Carmichael coal mine and Abbot Point Coal Terminal expansion. Malcolm is a man of the future, a man of science. And you know the science on coal says it works. It's old science, proven science. After all, coal will be important for "many, many decades to come" and knowing us it probably will right up until 2049.
January 28, 2016 – Presided over a drop in Australia's ranking on the Environmental Performance Index of 10 places.This is our fate for years to come as Turnbull oversaw a 3.4% rise in emissions within 12 months and 7.5% increase since the Abbott-Turnbull government scrapped the carbon price.Australia received bottom three ranking for environmental policy among wealthy nations. A position we have failed to rise above, to this day.In 2018 Australia's emissions grew at fastest rate since 2004 and Australia was named as one of the worst environmental performers on the global stage. In 2019 our carbon emissions reached another record high.
February 3, 2017 – Opened $5 billion infrastructure fund for "clean-coal" power stations and in May diverted funds from Clean Energy Finance Corporation to fund coal with carbon capture and storage.Carbon capture is a main feature of the net-zero plan in 2021 despite an MIT study into the future of coal which examined the potential impact of clean coal technologies on CO2 emissions, spoiler alert it's not great.With carbon capture and storage, more coal will be used in 2050 than today, so you can see why it is so appealing, they are set to put the coal in The Coalition. Most importantly, the study concludes that there is still no convincing evidence that the technology will be effective.
February 13, 2017 – Ignored advice that renewable energy was not to blame for South Australian blackouts. And in August would attack the South Australian pursuit of renewable energy projects policy as "ideology and idiocy in equal measure."SA still has the world's most powerful ion lithium battery from Tesla, though more powerful ones are on the way, which received a 50 per cent expansion independent review by consultancy firm Aurecon found the Tesla battery has saved SA consumers more than $150 million since it was built in 2017.But presumably this renewable energy and battery economy will all fall apart when we transition to the Mad Max economy. After all, electric cars can't carry 100 speakers and a man playing a flaming guitar, it's the end of the weekend raiding party.
December 19, 2017 – Data released the week before Christmas shows highest greenhouse gas emissions on record when land use change emissions excluded.This is a fun trick we are still pulling and when Scott Morrison was asked about the inclusion of land use emissions he said "Why wouldn't we?" Nobody bothered to mention that data shows emissions increasing to 2030 and beyond. It also confirms the government will in 2018 start developing "a long-term emissions reduction strategy by 2020". Start! Start developing, which we still haven't done.In an interview with the SMH Monash University economist Jakob Madsen said of Australia's economy. "The Australian economy is far too undiversified; deriving a large part of its foreign income from a few minerals and agricultural products."We are basically the weed dealer nobody would hang out with if they just made cannabis legal.
July 31, 2018 – Turnbull approved a $444 million fund for Great Barrier Reef Foundation, an organisation with ties to BHP, Shell and Peabody Energy.This decision would be described by Scott Morrison, who was treasurer at the time, as the "right financial decision" in 2018. Though it'd only go on to raise just $21 million of the $357 million target fundraising target in donations more than two years after it was awarded the largest single environmental grant in Australian history.If they'd just put their $444 million grant in a bank account for a year and received interest at 2.5 percent they'd have raised $11.1 million, more than half of what they raised.In 2020, The Coalition backed a 'cloud-brightening' trial on Great Barrier Reef to tackle global heating. A government-backed research program to make the Great Barrier Reef more resilient to global heating by spending $4.7 million developing technologies that could shade corals and make clouds more reflective during marine heatwaves. Sounds neat, huh?
Well, the science-led approach of Turnbull didn't work, so it was time to get back to the kind of leader who is fearful of the titular God that will stop you getting an insurance payout when acts of God are named.
Prime Minister Scott Morrison
The technology-led utopia that Scott Morrison is dreaming into existence is underpinned by eight years of dis-investment in everything he's now claiming will get us there.
The cuts have driven Australia's overall R&D investment below that of Europe, China, the United States, South Korea and Japan and large corporates such as Samsung, Alphabet and Huawei each spend more than half as much on R&D per year as Australia, according to business and economists.
Dr Sarah Perkins-Kirkpatrick, Senior Lecturer, School of Science UNSW Canberra says the government just needs to jump in.
"If the government just went right that's it by 2050 we're switching off coal. In 20 years we'd have the most efficient solar panels,"  Dr Perkins-Kirkpatrick.
Treasury's own research shows the lack of innovation has hurt productivity and overall wage growth, which has struggled to get above historic lows across the economy, this isn't a concern of the Coalition persae but we thought you might like to know about it as you are probably a bit more empathetic.
"There's underdeveloped countries that deserve to have a better quality of life, 100%. But why are we handing them coal, which is a dirty fuel, we should be handing them solar panels or wind turbines," Dr Perkins-Kirkpatrick said.
While the Australian government claims to spend about A$10 billion on research each year, one-third of this is in controversial tax breaks. The Coalition has also slashed $4 billion from R&D tax incentives in the past two federal budgets, while clawing back millions of dollars in previously approved claims.
UNSW published a study examining the impact of Australian government grants on a firm's engagement in innovation and its ability to attract additional funding from venture capital. They found receiving a grant increases a firm's innovation, measured by R&D expenditure, patents and patent quality because even businesses need handouts from big government.
Firms that received grants were also more likely to gain funding from Venture Capitalists. Grant recipients that gained subsequent VC funding, produced more patents and higher quality patents than grant recipients who did not receive VC funding. So the government has failed to provide the necessary support for technology in the renewable sector and has actively sabotaged the industry.
So, what does it all mean for the future of Australia?
"In terms of what our future is looking like I just say it's more of a Mad Max world at least here in Australia," Dr Perkins-Kirkpatrick said.
"I guess it's a mix of both [Waterworld and Mad Max] like very coastal will be more water world, but I think in general in terms of civil, unrest, and that what our summers are going to be like, you can think Mad Max."
On the plus side our electric cars will be strong enough to tow our boat when you travel from the oceanic waterworld to the inland Mad Max world on your big weekend trip.
Share this story: