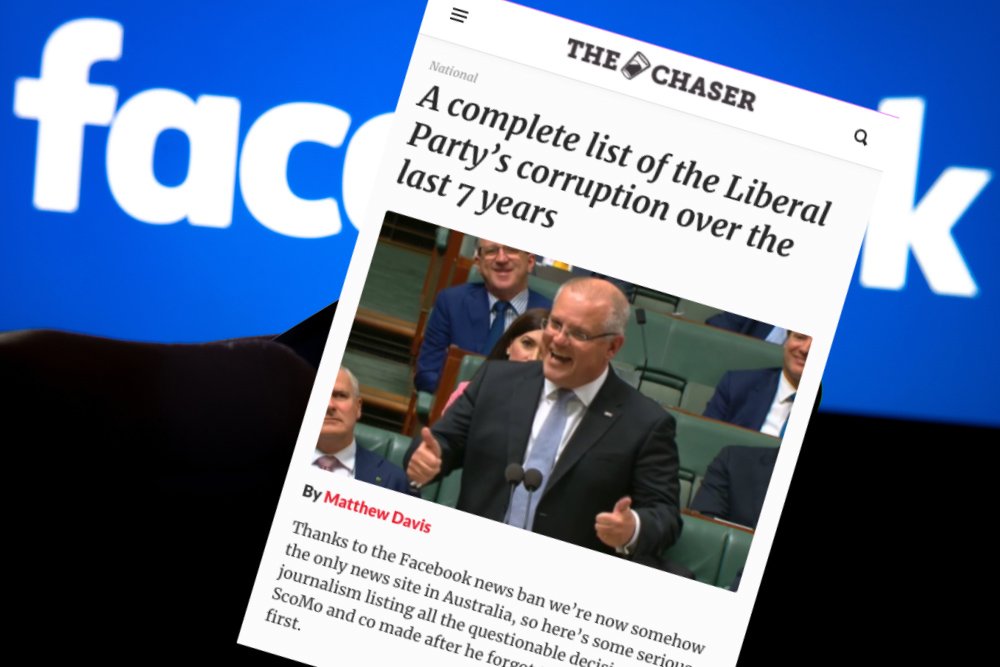 By The Shot


---
Australian satire site 'The Chaser' has today unveiled a 7 year investigative report into government corruption, after traditional news was banned from Facebook in Australia. The comedy group, which was initially also caught up in the news ban, has since had its account restored, and became one of the sole Australian outlets for current affairs on the platform, after the group impersonated Mark Zuckerberg on Twitter in order to instruct the company to reinstate their account.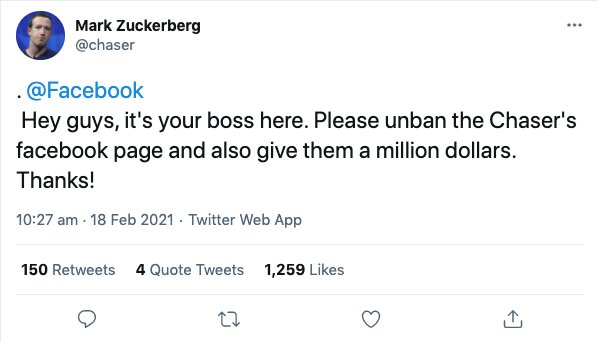 "It's absolutely nuts," said the Chaser's social media manager Cam Smith. "Our site's crashed twice today from traffic. We've got almost every news outlet now sharing updates in our comment section. We even saw the M1 Motorway providing live traffic updates in there. We've been posting updates about the weather and forecasts until the Bureau of Meteorology got their page back, but it's hard to keep up. My inbox is absolutely flooded with tip-offs and journalists wanting to get their stories published. At this rate we're going to end up Stephen Bradburying the Walkleys."
The group's now viral report into government corruption, which has been read over half a million times today, comes on the tail of a scandal plagued week for the Morrison government, which had no doubt thanked its lucky stars when the Facebook news ban came through. The Prime Minister's office had only hours before been facing allegations of a coverup related to a sexual assault that took place in government house, as well as the beginning of a Senate Inquiry into the influence of the Murdoch news empire, which has heavily slanted its reporting to favor the government in recent years.
You can read the full list of 125 cases of corruption over on the Chaser website.
Share this story: