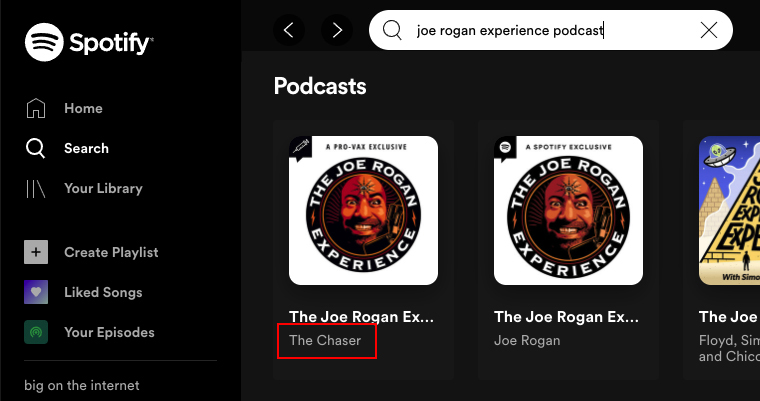 By The Shot


---
Australian pranksters The Chaser have left thousands of Spotify users scratching their heads today, after the comedy group briefly took over the top ranking for 'Joe Rogan' on the platform, with a fake podcast promoting vaccines. The move comes in the wake of hundreds of musicians and content creators pulling their content from the streaming service in protest against Rogan's misinformation around vaccines.
"People like Neil Young have been pulling their music to get back at Spotify, which is very noble but probably isn't going to convince many people to get jabbed," explained The Chaser's Charles Firth today. "We figured most of Rogan's audience is so gullible it'd be easier if we just pretended to be Joe for a day and declare that vaccines are safe. Knowing how quickly his fans fall for most scams, we expect they'll all be fully vaccinated within the next six to eight hours."
In playing the fake episode, Spotify listeners were met with a message endorsing vaccines, with the self proclaimed host 'Joe Rogan' declaring "I'm just a shoot-from-the-hip moron in his 50s who's balding and an idiot, I can do what I like."
Asked whether he expected retaliation from Spotify for the prank, Firth explained he isn't worried. "At first we thought Spotify might be upset with us pretending to be their star podcaster, and pull our show as a result," he explained, "but then we remembered they don't have any problem with misinformation being spread on their platform, so I think we're good."
@chaser you got me good. Woke up and saw I had subscribed to Joe Rogan podcast and thought how tired was I last night that I decided to subscribe to this shit. Bastards. 😁

— Sasha George (@bks8472) January 31, 2022
The team has also purchased the domain name JoeRogan.com.au, which now redirects users to the federal government's vaccine booking website.
The comedy group have previously faced a number of bans on social media platforms for impersonating celebrities, including briefly being removed from twitter for election interference in 2020, after the team impersonated Donald Trump and instructed the public not to vote for him.
Share this story: