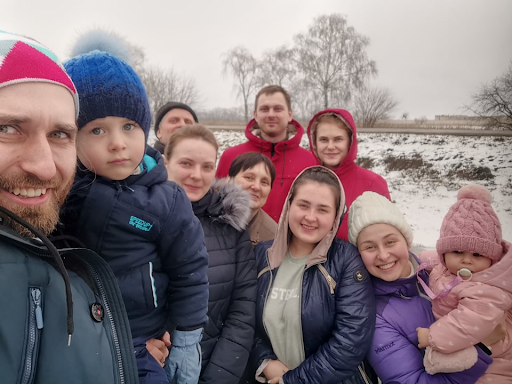 By Joel Jenkins


---
Denis is a dentist. He, his wife, two young children and his in-laws live in a north-eastern Ukrainian city called Sumy, 70km from the Russian border. Denis and his wife, an orthodontist, have pumped their life savings into a new dental surgery called the Smile Workshop. He is a good father and a quality thinker, a product of struggle and ideals, living in a country squeezed between the tectonic pressure of two powerful entities colliding.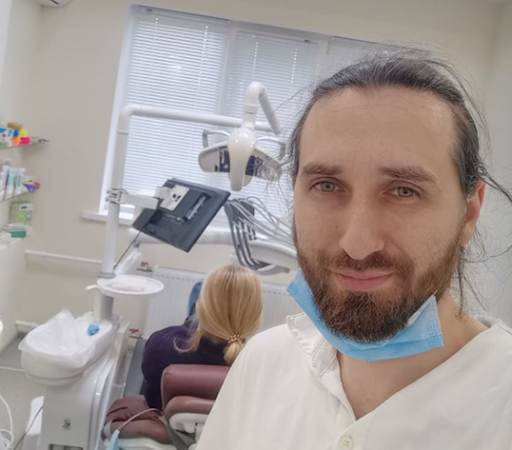 The end of the golden age of cheap air travel saw us meet back in 2019. Staying in a hostel in Bratislava with a bunch of noisy kids, we were both old and weary travellers and struck up a friendship, talking about the contrasts of our countries and the little cultural overlaps between Australia and Ukraine. When we parted ways, we grew our friendship over the internet, in and around COVID and global change across two hemispheres; interconnected humans, so close, yet so far away.
He would criticise Australia's nanny state and the lockdowns. I would ridicule Ukrainian property law. We would joke and laugh about the similarities and differences, send pictures of our children, and talk about having them meet in a playground somewhere in this world that twists and turns under ill-defined spheres of influence and suddenly collapses under the ill-intended spectre of war.
On February 24, Vladimir Putin issued orders to invade Ukraine. 
Speaking to Dennis in the weeks leading up to the invasion of his country, we talked about the hypotheticals, the doubts and the realities, the mounting concerns. He would tell me of rumours on the Russian border, about the situation on the ground, and I would give him information about the Western angle. We both slowly diverted more of our time to talking about the tensions, the stalemates, the stalling and the unthinkable. 
Denis made sense of the chaos at first by offering free dental work to the increasingly frightened population of Sumy. The Russians moved in, and then they went away. The local militias replaced them and started fortifying positions. Denis felt the Russians would probably return. 
In the days leading up to his decision to leave, food and fuel was scarce. Then the electricity was cut. Then ordinance started falling into the city.
At sparrow's fart on March 4, Denis decided to leave with his wife and kids in a 2015 Opel Astra with engine light trouble, somewhere on the good side of a collective panic. Half a day down the road, as they escaped on snowy backroads, the city behind became surrounded, the power, gas and water disabled. Artillery and aerial bombing intensified. 
The big towns in the east all had to be avoided to ensure a chance at escape. In Lebedyn and Romny there were shootings. In Trotstyanets homes were being raided by Russian troops. In the chaos of advanced patrols, the safest option was creeping between villages through icy slush and mud on what he called "the worst roads in Europe". For weeks leading up to this journey, Denis had been speaking of the importance of crossing the Dnieper River at all costs.
As the river was almost within sight, their car became trapped behind trees that had been cut down to block the road, bogging them in a muddy field. Losing precious daylight hours, stuck in a freezing and hostile environment with his young family, between Russian tanks behind and the advanced invading parties ahead, he managed to find help in a nearby village. 
Having dodged Russian forward patrols, aerial attacks and engine light failure, they crossed the River Dnieper at Cherkasy. With all the worldly goods they could fit in the back of a hatchback, this exhausted family slept for the first time in weeks in Ukrainian controlled territory on the river's west.
Denis headed for his home village where his father lives in central west Ukraine, a couple of hundred kilometres due south of the besieged capital of Kyiv. He noted all the childhood friends and the old faces that had arrived in similar circumstances. He said it was good to see them, but it was for all the wrong reasons. 
With a rare moment to pause, he reflected on everything that had transgressed. He focused on the fact his children were happy, smiled for a moment and mentioned taking inspiration from the Italian film La vita è Bella, as a father trying to use humour and love to shield his family from the horrors of war. 
Denis says he is one of the lucky ones. Across a 1700-kilometre scramble through a panicked, hellish landscape, he ensured his family could leave the country to safety. So many others did not have this option. 
"I am alive", he says, somewhere near the Romanian border. He talks about the loss of children and families that are destroyed by war. I couldn't help thinking of the reports that had broken of thermobaric weapons, of indiscriminate artillery in Sumy, Kharkiv and elsewhere, and how this must have been weighing on him.
This conflict has shifted the global paradigm. Safely in another hemisphere, it's easy to miss the human toll of war. In the west, our "analysis" decides if the war is worth one thing or another; we weigh whether there is some result that may be ideal from a certain angle. But these scenarios can never truly consider people like Denis and their families, in places from Ukraine to Burma to Yemen. 
As belligerent goals of conquest play out, they seem small and insignificant compared to what's left behind in the hearts of the afflicted, and the physical and psychological damage that is never considered or understood. "It's really, really horrible", Denis says, dropping his voice, his sunken eyes almost giving into his exhaustion. "Because children die. It's the worst thing in the world, from the bullets and the bombs, the lack of heating and electricity".
Denis cannot cross the border with his family, who are now safe in Romania. As a male of fighting age, he will face conscription, but with his medical training being in high demand, he might not need to carry a weapon. His fate in this conflict is now at the mercy of powerful people at arm's length from the frontline, imposing their ideals and goals on the innocent, birthing yet another deadly conflict to an exhausted planet.
Denis says getting his family to safety brought him some peace, but he soon started "shaking inside" when he realised that they were really gone. He has made a promise to see them in two months' time.
Now, he drives in his car loaded with supplies, trying to negotiate what he needs to do. He might head back east to Sumy, he says. With his family out of immediate danger, everything has become simpler for Denis. "I just need to help people now, and I need to survive. That is all I have to do. It's not very hard for me".
Share this story: