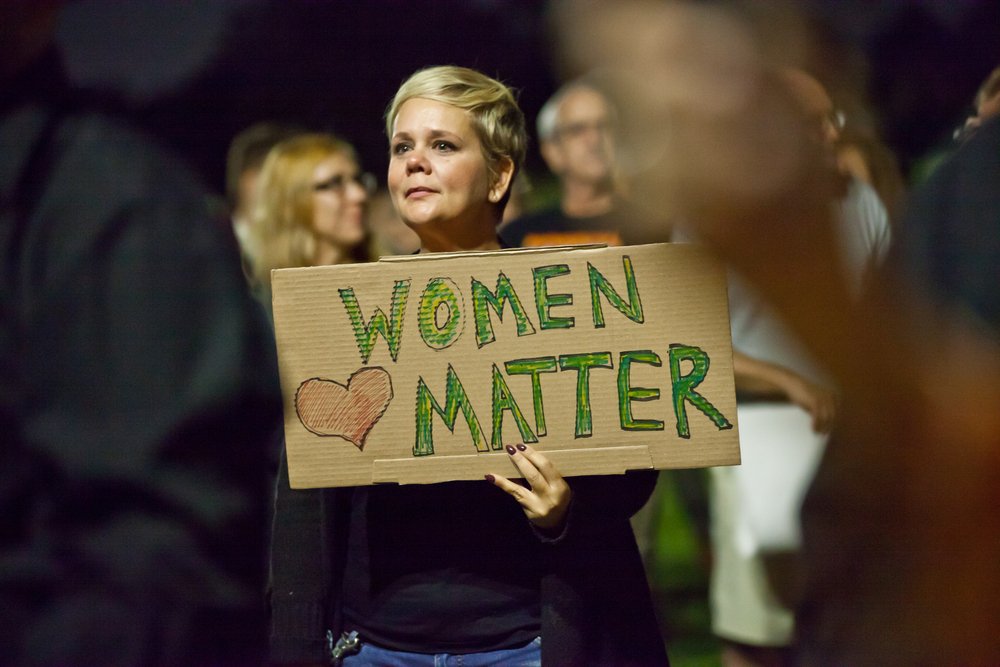 By Mary Pemberton


---
On 15th March, rallies are being held around Australia to warn Canberra it is on notice over its handling of violence against women. Mary Pemberton talked to the founder of March4Justice, which is coordinating the events.
---
When you start talking to the founder of March4Justice, Janine Hendry, one thing is clear: this is a lady on a mission.
A self described middle aged, middle class, "normal" woman, Ms Hendry was raised under the influence of her formidable Aunt, Margaret Hendry; a trailblazing landscape designer and advocate for women's rights and quality awarded a Medal of the Order of Australia in 1992.
Reflecting upon her upbringing, Ms Hendry said "I watched her activism, I watched the laws change and I thought we were done."
Like many Australians, Ms Hendry has been appalled by our leaders response to rape allegations in Parlaiment over the past few weeks.  But it was a petition started by former Kambala student Chanel Contos that propelled the creation of March4Justice.  Published on 18th February. Ms Contos called for improved sexual consent training in schools.  The response was immediate and raw.  Signature after signature included personal accounts of sexual assault.
 It was over a morning cup of coffee that Ms Hendry read the accounts, over a week later.  She had a visceral reaction.  Ms Hendry feared for her own teenage son. "I need him to be a man, what is this influence doing to him?" Ms Hendry realised her Aunt's work was not only not done, it was time to pick up the legacy.
Aware of the anger but not the appetite, a call-to-arms tweet for one demonstration evolved into planned rallies across Australia.
4000 women – that's what it will take to circle parliament house on March 15 and to make it clear to this Govt. that we have had enough #womenforequality

— 💧Janine Hendry (@janine_hendry) February 28, 2021
For Ms Hendry, the entry into activism has been rocky. Shey acknowledges mistakes have been made.  Most notably creating a Facebook page that saw over 6,000 angry, traumatised and triggered people flood an environment without a safety framework.  Out of the initial chao,s a small team of people rose into volunteer leadership positions, quickly turning things around with over 100 people per hour continuing to join.  Although lamenting the rough start Ms Hendry is pragmatic. 
"The response has been overwhelming.  As a grassroots movement we have been inundated with people offering to help.  But there is frustration when we don't respond quickly or adopt ideas.  We are time poor.  Just vetting the 1000's of volunteers needed to plan 25 protests nationally in two weeks means we will continue to make mistakes.  I just hope people keep their eye on the prize."
March4Justice created a petition for the 15th March demonstration and they are asking everyone to sign.  They see this as an opportunity for people to say #EnoughIsEnough and warn Canberra it is on notice. As a result, she says it's therefore appropriate political leaders are excluded as speakers.  Ms Hendry says she is only interested in their response to questions and calls for action.
Meanwhile Ms Hendry's personal goal is to see a shift in cultural attitudes closer to home.
"If this protest results in 10 – 20% of Australians becoming consciously aware they need to call out sexist and unequal behaviour locally that will be a good beginning."
And Ms Hendry does see this as a beginning. She is appalled our highest law making institution is choosing to treat women the way they do. "Our politicians are not meeting a standard anyone should find acceptable."
Acknowledging sexual assault happens everywhere, Ms Hendry highlights the fact that culture can nurture or stiffle this criminal behaviour.  "Currently our politicians are dismal influencers and it has far reaching ramifications and the private school gene pool for future leaders in various fields is truly troubling."
Noting the #MeToo movement largely bypassed Australia, Ms Hendry wants to harness this moment to achieve a bigger goal; force long term cultural change and implement long overdue equality.  
Joking this is her "first revolution" Ms Hendry talks about settling on the name March4Justice saying "we needed an identify that recognised sexual assault is a symptom of a greater problem – justice."
In talking to the March4Justice team, one thing is clear.  This is a group that doesn't want to rise quickly then disappear.  Although new, they are forming a vision that wants to be inclusive and powerful.  The future will tell if Australian's are really ready for change, forgiving enough to back an entity as it grows into its ideals and objectives and willing to do the hard work required to back a team that wants to make a difference.
Learn more about March4Justice here.
Share this story: