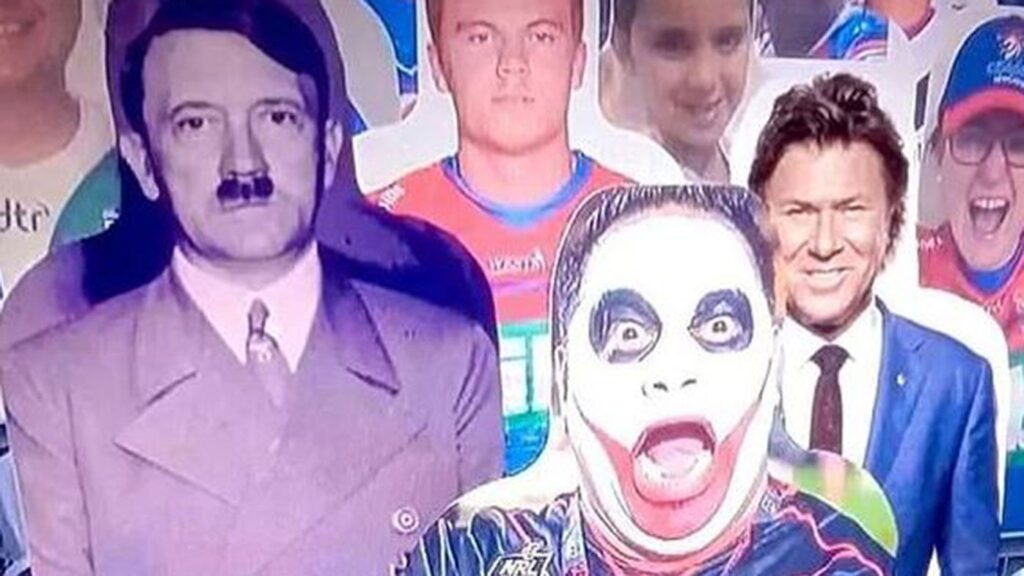 By Zanda Wilson


---
The NRL returned over the weekend and in news that will surprise absolutely nobody, there was a debacle five minutes later.
The sport launched a 'Fan In The Stand' promotion where NRL fans could have a cardboard cutout of themselves appear in a seat at the stadium. Sounds like a great idea right? Pretty simple to execute without bringing the sport into disrepute?
But nothing is that simple for the NRL, with several mishaps turning what should have been a nice gesture into yet another moment of controversy for the embattled sport.
Matty Johns decided to air a sketch on his Sunday Night Fox Sports show which depicted an image of Adolf Hitler among the cardboard cutouts that were placed in several stadiums.
The joke sparked anger from the Australian Jewish community, and Fox Sports has since apologised for the sketch, admitting it was "tasteless and offensive".
Fox Sports will almost certainly come under fire for this distasteful, edited cardboard cut out of Adolf Hitler in the stands at the Manly v Cantebury match at Central Coast Stadium this evening @NRL @SeaEagles @NRL_Bulldogs @FOXRugbyLive #unisanews2020 pic.twitter.com/DZljy47kTo

— shawdy (@willzfaulk) May 31, 2020
NRL also thought it was tasteful to let an image of mass murderer Harold Shipman, an English doctor who killed over 250 people, to be placed in the crowd.
Boris Johnson's now-infamous adviser Dominic Cummings, who travelled 800km to get some babysitting, also appeared on a cardboard cutout. (Which was, admittedly, quite funny)
"We are reviewing the vetting process for Fan in the Stand," an NRL spokesman said. "The weekend was a trial run and trials are designed to iron out issues."
Are you actually using a cut out of Harold Shipman @NRL? He murdered over 260 people. Even I find that in poor taste. #NRLPanthersKnights pic.twitter.com/x8GwfZ1MKU

— Matthew Catterall 🇪🇺 (@mxcatt) May 31, 2020
Of course, the lead up to the weekend was a bit of shit show too. Cronulla Sharks player Bronson Xerri testing positive for a cocktail of illicit substances including testosterone, androsterone, and etiocholanolone. Might have been easier to find out what he hadn't been taking.
That came after several NRL players showed they have no real concept of what 'lockdown' means, with players doing everything from socialising and recording videos for TikTok to going camping while a strict 'no-travel' order was in place.
As the biggest Australian sport allowed to resume so far, the NRL had an opportunity to begin restoring its reputation among the Australian people. Yeah, right.
Share this story: