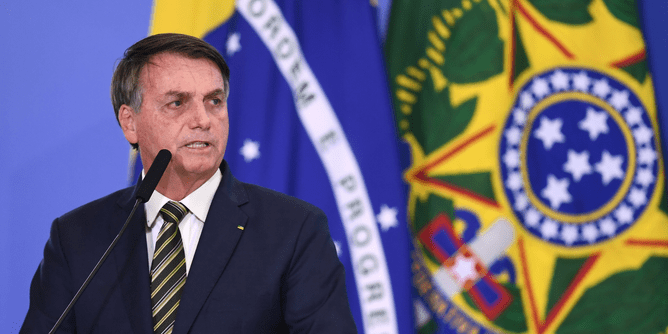 By Zanda Wilson


---
President of Brazil Jair Bolsonaro, who has repeatedly downplayed the severity – and even the existence – of the coronavirus pandemic, has tested positive for coronavirus.
We are shocked.
The extreme right-wing leader revealed he developed symptoms over the weekend, before confirming he had the virus in an interview with reporters. He now joins almost 1.7 million other Brazilians to have tested positive for the virus, the second-highest total globally.
Bolsonaro has consistently trivialised the pandemic and resisted calls to bring in stronger social distancing measures in Brazil, despite his country quickly becoming one of the biggest COVID-19 hotspots.
In March, he accused mayors and governors across Brazil of having an "overblown" response to the virus, as they attempted to close down parts of the country. He rubbished quarantine measures and travel restrictions, attacking messages sent out by his own health ministry.
Governors labelled his press conferences – where he called the pandemic a "media trick" and nothing more than a "little flu" – as "catastrophic denialism".
"The people will soon see that they were tricked by these governors and by the large part of the media when it comes to coronavirus," said Bolsonaro, who also accused his political rivals of using the pandemic to force him out of office.
As deaths began to rise, he responded with some classic lines including "everyone will die someday" and more recently "so what? I'm sorry. What do you want me to do?"
Brazil has now recorded almost 70,000 COVID-19 deaths.
Despite testing positive to the virus, Bolsonaro remains steadfast in not taking this whole thing seriously.
"There is no reason for fear. That's life," said the 65-year-old. "Life goes on. I thank God for my life and the role I've been given to decide the future of this great nation that is called Brazil."
"Thanks to all those who have been praying for me… and to those who criticise me, no problem, carry on criticising as much as you like."
We don't think Jair needs to worry too much. His complete disregard for the wellbeing of his citizens will ensure that the criticism now, and of his legacy, won't be in short supply.
Share this story: