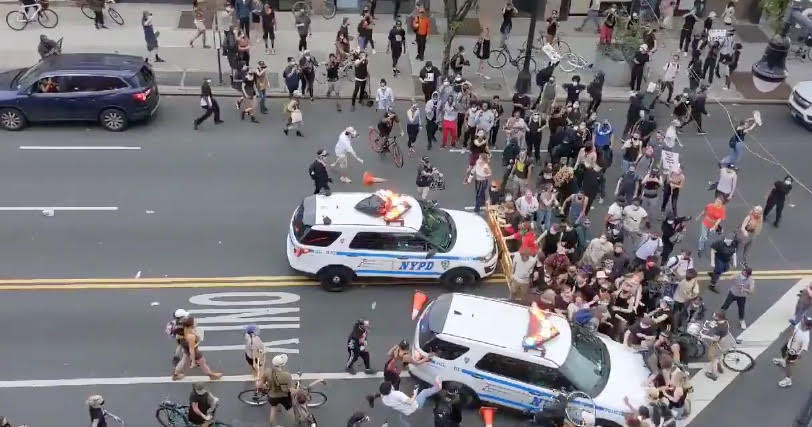 Police cars in New York are emblazoned with the words 'Protect and Serve', but the last few days suggest the police have a very different understanding about what those words actually mean.
As protests against police violence and brutality grow in size and number around America following the killing of another black man, police in New York have doubled down with more violence.
On Sunday morning, two NYPD vehicles ploughed through a crowd of protestors. People can be heard screaming and crying out for help.
After New York Mayor Bill de Blasio originally defended the actions of police, insisting the NYPD displayed "tremendous restraint" amid the protests. Check out this tremendous restraint:
Breaking: Video shows NYPD vehicle driving into a crowd of protesters in Brooklyn, New York. pic.twitter.com/IOVZcutT1D

A brief ad:

— PM Breaking News (@PMBreakingNews) May 31, 2020
Eventually the mayor caved to public pressure and called for an investigation into the incident.
The events that took place are, in fact, completely consistent with rulings by the US Supreme Court in recent years, that confirm law enforcement agencies have no duty to protect citizens of the country.
That ruling was summed up by University of Florida Professor Darren Hutchinson, who surmised that "police can watch someone attack you, refuse to intervene and not violate the Constitution."
Based on recent evidence, it would appear that 'refusing to intervene' notion applies to cops watching other cops kill people as well.
---
Share this story:
Our writers can't live off exposure, but they sure can die from it. You can donate or become a supporter to help us write more stories like this one.
---
Live in Sydney?
See some of The Shot's top writers live at The Shot's Annual Wrap - 12th December at the Seymour Centre. Book now.
---
Our entire range of stickers are now back in stock - $2 - Buy now from The Shot Store