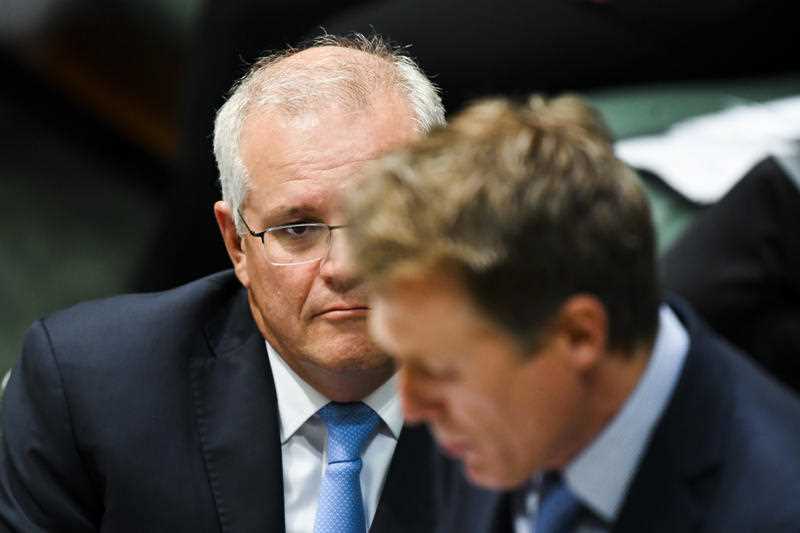 Was it any surprise Scott Morrison's pre-budget announcement for Mother's Day was about breasts? You can almost hear the brainstorm between Scott and Josh. "Women. Women? What do you think of when you think of women? I know! Breasts! Women have breasts! And men love breasts too. Everyone loves a good, healthy breast. Perfect… we'll give them funding for breast cancer."
Never mind more than 100 women a year are murdered at the hands of their male partners. Never mind that the past year has exposed a sexual assault crisis not just across the country, but in Morrison's own workplace – one he has not dealt with beyond making sure the alleged rapists in his cabinet don't get sacked.
The extra breast cancer money was so staggeringly out of touch with the battles women have fought this year, and such a depressingly cliched move, that Tanya Plibersek, Shadow Minister for Women, didn't quite know how to respond. "I'm not sure that there's anything in this announcement that is highly innovative." 
But that is the theme of Budget 2021. Staggeringly out of touch. 
And yet it is so protected by Murdoch's mastheads that if you took only a passing glance at it (which, let's face it, we all do), you'd think he'd delivered an election year bonanza of inconceivable generosity and beneficence that Scott Morrison was worthy of automatic reelection. "Full-strength recovery", proclaimed The Herald-Sun. "Election injection" The Courier Mail celebrated. "Super Spender Event" drooled The Australian.
A brief ad: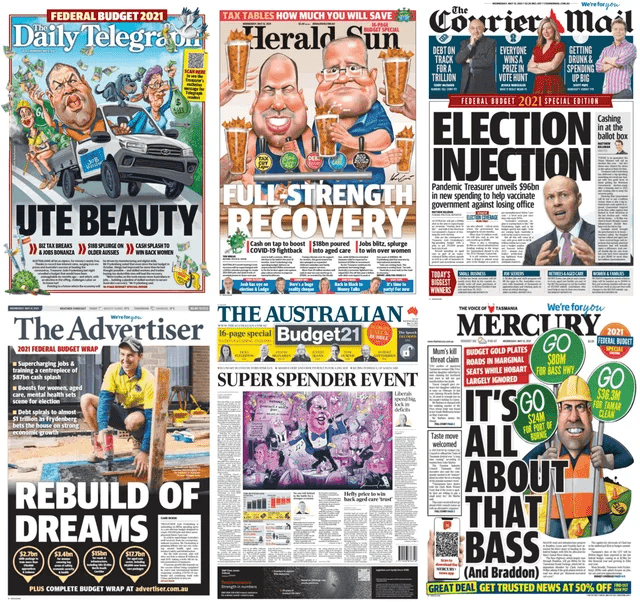 As Christian Porter returned to the front bench last night, as if nothing unsavoury had happened at all, listening to Josh Frydenberg, it was hard not to be drawn into Morrison's Grand Fantasy that Australia is on track to a "Full-Strength Recovery". Ute beauty! 
And the Opposition Leader seems to have been reading the same papers. He and his colleagues had no story to tell about how out of touch and cruel this budget actually is. Listening to the OPPOSITION, you know, whose job title suggests that they OPPOSE the government, you'd be forgiven for thinking the government had delivered a budget that was on the right track.
Given the task Australia faces as it timidly fails to emerge from the pandemic, thanks to the indolence of the vaccine roll-out, this is an austerity budget. 
In almost every measure, it does the opposite of what should be happening. The Morrison Government is so out of touch with what is really going on for Australians they can now be fairly described as actively working to undermine our economy.
One of the many, many heartless cuts, was a mostly-unnoticed measure that saved a tad over $600 million. The measure prohibits recent migrants to Australia from accessing any welfare services during their first four years here. It is a measure that will fuck low-wage Australian workers. It will fuck them because it will almost certainly create an underclass of worker, willing to work for illegally low wages in industries like aged care where it's hard to grow the workforce.
A budget that delivers lower wages for low paid workers is an austerity budget.
During the week, a friend of mine expressed the desire to get cancer. Of course, he didn't actually want to get cancer, but as someone who lost his job the middle of last year, and is over 35, he was pretty convinced that getting cancer was preferable – at least financially – to the situation he'd found himself in. The JobMaker scheme,which subsidises employment for under-35s who are out of work,  perversely incentivises employers NOT to hire my friend. He's a professional with an impressive CV. And Scott Morrison has fucked him. 
And not just him. Scott Morrison is fucking the two million Australians who are currently unemployed or underemployed in Australia with this budget. With his cuts to JobSeeker, and his bizarre JobMaker scheme, he's fucking them to the point where cancer feels like a preferable option.
The sheer fact that the Government proudly continues to operate its Robodebt  scheme – which has contributed to hundreds of suicides amongst society's most vulnerable – shows the callousness of its calculations.
The Robodebt scheme has so far yielded roughly the same amount as the extra $2.3 billion in mental health funding, added to the budget this year to help all the people who this Government has helped feel suicidal. 
In fact, for the first time ever, the government allocated $22 million to fund support for those bereaved by suicide. It's a macabre addition to the budget. But necessary thanks to all their other measures. It's exactly the type of thing you have to slip into an austerity budget.
In February, every time Morrison opened his mouth to address Brittany Higgins's allegations, he made things worse. At one point he realised that women had fathers and therefore sexual assault needed to be addressed because it might affect a man. At another point, he congratulated himself for not shooting the women who were marching in the street. Add this supposed "budget for women" to the lengthening list of Morrison's disdain for women.  
The concept of a gas-led recovery is so out of touch with the 80% of Australians that want more action on the climate cataclysm. Underfunding public schools by $27 billion over four years is such a long-term own-goal economically that it needs no explanation. And do you know anyone under 35 who thinks the housing market works?
Everyone knows that the Aged Care Royal Commission report (beautifully entitled 'Neglect') needs at least $10 billion per year to address the problems that it identified. Instead the government promised $18 billion. Over five years. It's a fraction of what is needed.
41% of people in aged care are malnourished. This is a crisis. $18 billion OVER FIVE YEARS is a drop in the fucking ocean. What are they thinking? That they want to reduce the number of malnourished people to 31%? Only one in three aged care residents are starving! Ute beauty!
We all know, deep down, that the goal of managing your ageing parents is about helping keep them out of aged care at all costs. That we're all aware it's horrific, and yet the government can get away with a "not nearly enough" funding promise and then be lauded as being "super spenders" for it shows just how much trouble Australia is in.
This is frog in boiling water stuff. 
But the biggest miss in this budget is the total neglect of any wages policy. Wage growth in Australia has been plummeting since 2010. And yet there is not a single measure to increase them.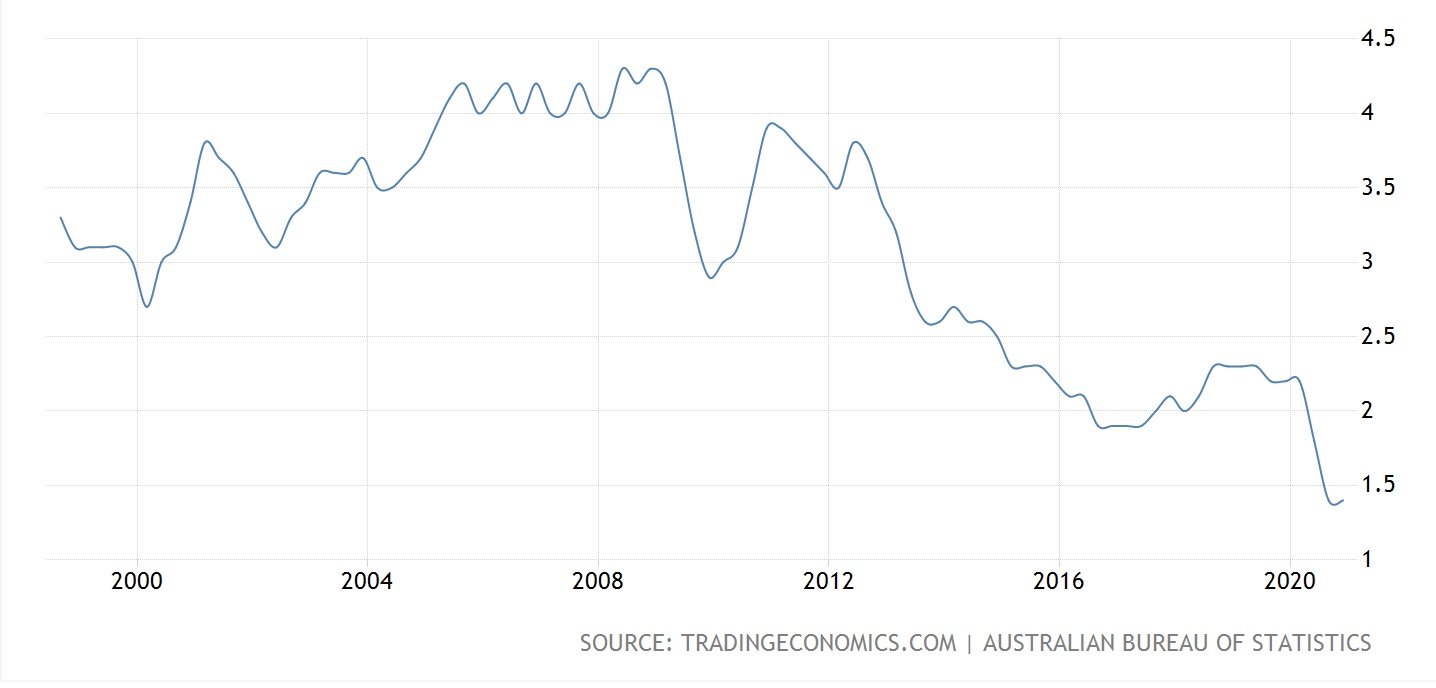 Wage growth in Australia over the past 25 years. Source: tradingeconomics.com
It's not a surprise that wages are not high on the list of the party of business, but it is a surprise that nobody – not the media, not anyone in the Labor Party, and certainly not Anthony Albanese – has even mentioned this most obvious fact about this budget. Australia desperately needs a pay rise. Anyone who thinks otherwise is either completely out of touch, or a particularly shitty boss.
How come Morrison can get away with it? Many have commented that this budget was a marketing tour de force, but it wasn't Morrison's marketing genius that made it so. Like most Federal Government schemes nowadays, it was delivered by the private sector.
97% of the commercial news media is owned by Rupert Murdoch, Nine Entertainment (chaired by Peter Costello), Seven Group (owned by mining equipment magnate Kerry Stokes) and CBS Viacom. The other three percent is The Guardian, Schwartz Media and various shabby upstarts like us.
The protection racket for this government is ubiquitous, monolithic, and all powerful. 
Perhaps in recognition of this depressing reality, Anthony Albanese's response to this budget has been coweringly small. "The gap between the announcement and the delivery is the thing to watch out for," he said. Sure. Good point, I suppose. But don't you think it's a bit of a technical point? Lacks a little bit of emotional punch. Like any at all.
This government is staggeringly out of touch. Australia needs a pay rise, and Morrison is delivering stagnation. He's letting his business mates buy machines that will replace you and your mates tax free. He's cutting your penalty rates, and with everything else, he's doing the barest minimum that he can get away with.
This is not a generous budget. This is a piece of grand buffoonery that hides the fact that Mr Morrison has no idea what is going on for millions of Australians.
Australians want a budget that will allow them to thrive. They want to be able to afford a good house, for their kids to get good jobs, and they want to feel like they're not treading water.
Nothing in this budget advances Australia. This plunges our kids and grandkids into debt with nothing to show for it, except a bunch of submarines that won't work, and jet fighters that can't fly straight, and a whole heap of carbon emitting gas infrastructure that will be a white elephant within the decade. It cuts Australia off from the world, and relegates it to a 91st ranked country. Mr Morrison may smirk at the footy, but that he's happy with Australia being 91st in the vaccine rollout that he's in charge of, shows the level of ambition he has for this country.
Millions of women live in fear of violence against them – and they still will after this budget. Our grandmas and grandads live in fear of being put into care – and they still will after this budget. Our planet is on fire and it's being made worse with this budget.
And Scott Morrison smirks and jokes and thinks he can get away with this pathetic, lazy, out of touch budget.
If only we had an Opposition Leader who would actually say that.
Without a narrative of what is wrong, Scott Morrison can get away with anything, even a budget this terrible, mean and nasty. Unless he is opposed in clear terms with a proper story, he will sweep to victory in the next election, in a result that will make 2004 look like a close run affair.
---
Share this story:
Our writers can't live off exposure, but they sure can die from it. You can donate or become a supporter to help us write more stories like this one.
---
Live in Sydney?
See some of The Shot's top writers live at The Shot's Annual Wrap - 12th December at the Seymour Centre. Book now.
---
Our entire range of stickers are now back in stock - $2 - Buy now from The Shot Store