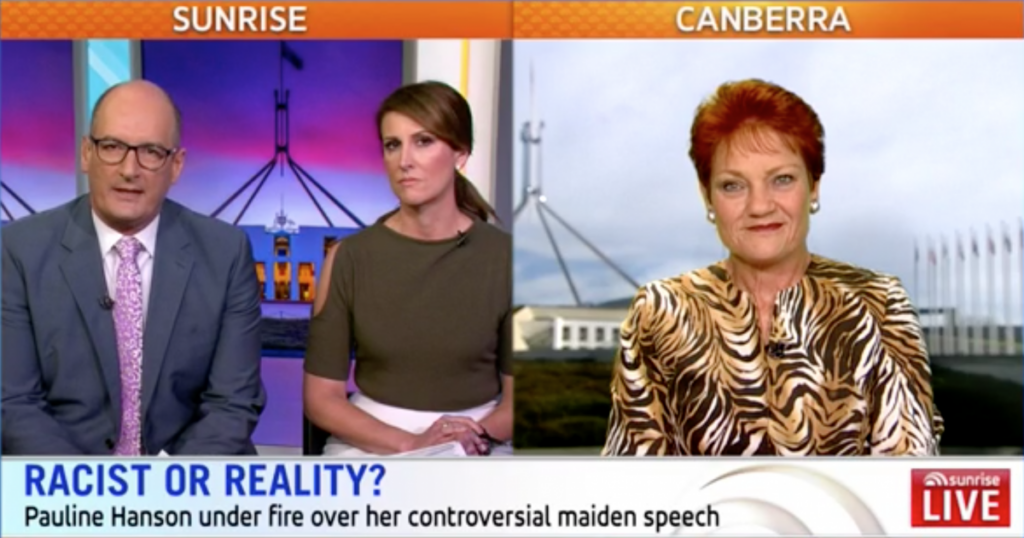 Australian television is racist. This is not up for discussion. Our three main commercial free-to-air television networks have long histories of racism and all three continue to perpetuate a culture of racism in varying ways, whether through content, programming or hiring decisions. But The Seven Network has really overachieved in this area in recent years, and not just by bankrolling Ben Roberts-Smith's legal defence against war crimes allegations.
"They lack representation at levels that are embarrassing," Media Diversity Australia co-founder Antoinette Lattouf told NITV. MDA recently published a report noting that Seven has no Indigenous on-air staff, editorial leaders or board members and that 95% of on-air staff are from Anglo or European backgrounds.
Late last week, former Kardashian and California gubernatorial hopeful Caitlyn Jenner flew into Sydney, ahead of filming for Seven's Big Brother VIP. And because one Trump-loving influencer per reality show isn't enough, Katie Hopkins followed shortly after. 
Hopkins is a far-right political commentator and professional troll who is permanently banned from Twitter for "hateful conduct". She labelled migrants "cockroaches" and a "plague", called for a "final solution" against Muslims in the UK, and openly mocked refugees dying crossing the Meditteranean. What a treasure. 
Hopkins expressed outrage about Australia's compulsory hotel quarantine system and called lockdowns "the greatest hoax in human history". She took to social media to ridicule our silly attempts to not all die from a deadly virus, and in an Instagram post on Saturday, July 17, boasted about having opened the door to receive a meal stark naked and without a mandatory mask. 

A brief ad:
You can be as racist as you want in this country, but don't you flout our Covid rules, missy. Calling Hopkins' behaviour "shameful" and "appalling", Home Affairs Minister Karen Andrews, a woman who stalled medical treatment for a deathly-ill toddler, revoked her visa and kicked her the fuck out of dodge.
a Katie Hopkins getting deported from Australia photo to brighten this Monday morning, you're welcome pic.twitter.com/1h3wpICxkK

— dave ❄️ 🥕 🧻 (@davemacladd) July 19, 2021
But the buck doesn't stop with fumigating her hotel room. Seven greenlit Hopkins as talent for Big Brother VIP. There is no believable scenario in which every single person involved did not know exactly who she is and what she stands for. In fact, the most believable scenario is that she was greenlit because of who she is and what she stands for. 
Seven's catalogue of racist sins runs deep with too many examples to list, but here are some greatest hits from just the past decade.
In 2011, a segment on the current affairs show Sunday Night accused the Suruwaha people of Brazil of murdering children, among other crimes. Activists called it "freakshow TV at its very worst" and three years of legal battles upheld the Australian Communications and Media Authority's ruling that Sunday Night broke the commercial television code of conduct, presenting multiple factual inaccuracies and provoking "intense dislike and serious contempt on the grounds of race or ethnic origin".
In 2018, Seven news reporters misread the room and gloated that they had been the only news team "exclusively invited" to a meeting of far-right activists in Melbourne. So lucky! "They have come together to help average Australians deal with what they are calling an immigrant crime crisis," said the report, as if anything those Nazi fuckheads are calling anything is worthy of repeating. 
The report also platformed United Patriots Front founder and walking gum disease Blair Cottrell, without bothering to disclose his criminal history, allegiance to Adolf Hitler or social media posts about physically and psychologically abusing women. I mean, the dude proved too racist for Sky News. Too. Racist. For. Sky. News.
The same year, a Sunday Night segment on "African gangs" allegedly terrorising Melbourne served to do nothing but stir up unfounded fear and put giant racist targets on the backs of South Sudanese Australians and others of African national origin. 
Just last week, a post on the Seven News Facebook page about the Euro 2020 final added to the disgraceful global pile-on of English players Marcus Rashford, Bukayo Saka and Jadon Sancho. "Three Black players failed in the penalty shootout which England lost 3-2 against Italy," read the post, which was deleted but not before people got screenshots. Blessed are the screenshoters, for they shall inherit the internet. 
Seven CEO James Warburton apologised for the "terrible mistake", but there are calls for a full inquiry into the incident. "As they have been repeat offenders in being racially inflammatory," said MDA's Antionette Lattouf, "it's really hard to believe (the Facebook post) was an error".
When they score they are English. When the fail to score, they are black. https://t.co/8z637FsQG8

— Nyadol Nyuon (@NyadolNyuon) July 12, 2021
This isn't Seven's first Facebook faux pas. In 2018, One Nation Founder and fully grown Chucky doll Pauline Hanson tabled a parliamentary motion denouncing the "anti-white racism" keeping her up at night. Days later, a poll appeared on Seven's Facebook page, referencing Hanson and asking if people agree that "anti-white racism" is on the rise in Australia. Honestly, all things considered, it's a wonder this station isn't just 24/7 minstrel shows and Benny Hill.
Seven Facebook poll promotes Pauline Hanson's 'anti-white racism' crusade https://t.co/DYyXwZEGr0 pic.twitter.com/o6vQsgk12C

— Crikey (@crikey_news) October 24, 2018
If only their championing of Hanson ended there. From 2016 to 2019, Pauline was a regular paid contributor on Seven's Aryan dream breakfast show Sunrise, gabbing to its Aryan hosts about Aryan things for its Aryan viewers. 
Questioned by Junkee why Sunrise continues to platform Hanson, executive producer Michael Pell dribbled out the excuse typically given by media exploiting discrimination for ratings: he wants to "present both sides of the story" so viewers can "make up their own minds". I've made up my own mind: he can go fuck himself. 
After the devastating Christchurch mosque shootings in 2019, Sunrise host David Koch appeared to finally parse the damage hateful people like Pauline Hanson cause. "This terrorist manifesto almost reads like One Nation's immigration and Muslim policy," said Koch, suddenly realising water makes ice. "Do you, in any way, feel complicit with this atrocity?" A heated on-air exchange led to the professional xenophobe quitting in a huff. The strangest part: Koch actually stood up for the victims of racism for approximately seven minutes, maybe less. 
It was through Koch's now-former co-host, Samantha Armytage that Seven really put its back into being the fucking worst. It's hard to pinpoint which Armytage-led Sunrise segment was the most racist, each option sparkling like a blood diamond. 
There was the time Sam congratulated a woman for looking more white than her sister when interviewing fraternal twins with differing racial appearances. And the time a group of Aboriginal rights protestors were audible behind the hosts in a live segment, leading Armytage to declare the show was "trying to block out some of the more angry and nasty and vile bits of this". How very dare they want rights on her time. 
Sunrise has again been swamped by Aboriginal protesters, this time on the Gold Coast without a blind to pull down https://t.co/JOCQoYfqDV

— The Age (@theage) April 10, 2018
But the winner has to be the time Sunrise let three white people mouth off about Aboriginal adoption and the forced removal of Indigenous children. Armytage was joined by renowned Aboriginal experts, Brisbane radio host Ben Davis and human bag of wet flour Prue MacSween who called forced removal a "no brainer" and said: "Just like the first Stolen Generation where a lot of children were taken because it was for their well-being, we need to do it again." I mean fuck. 
This led to perhaps the most Sunrise-y thing ever, when a group of protestors gathered outside Seven's Sydney headquarters while the show was recording live. When the protestors became visible behind the set, producers changed the backdrop to block them out. Sunrise copped a huge backlash for both the segment and their handling of the protest, and Seven was successfully sued for defamation by a group of Yolngu Traditional Owners. 
Earlier this year, Armytage announced she was departing Sunrise for reasons I don't care about, making way for another pretty white woman to fill her racist shoes. To my knowledge, the morning show has since remained controversy-free, but who knows what a new day in this cooked country will bring. 
Sunrise reassures fans the loss of Armytage won't stop the show's constant racism https://t.co/979KXzM9ay

— The Chaser (@chaser) March 8, 2021
The Seven Network has repeatedly demonstrated contempt for BIPOC people and communities, using them as a ratings tool no matter the consequences. Executives knew exactly what they were doing when they signed Katie Hopkins on to Big Brother VIP just as the Home Affairs Department knew exactly what they were doing when they granted her a visa. If only she'd just shut up and worn that mask.
---
Share this story:
Our writers can't live off exposure, but they sure can die from it. You can donate or become a supporter to help us write more stories like this one.
---
Live in Sydney?
See some of The Shot's top writers live at The Shot's Annual Wrap - 12th December at the Seymour Centre. Book now.
---
Our entire range of stickers are now back in stock - $2 - Buy now from The Shot Store