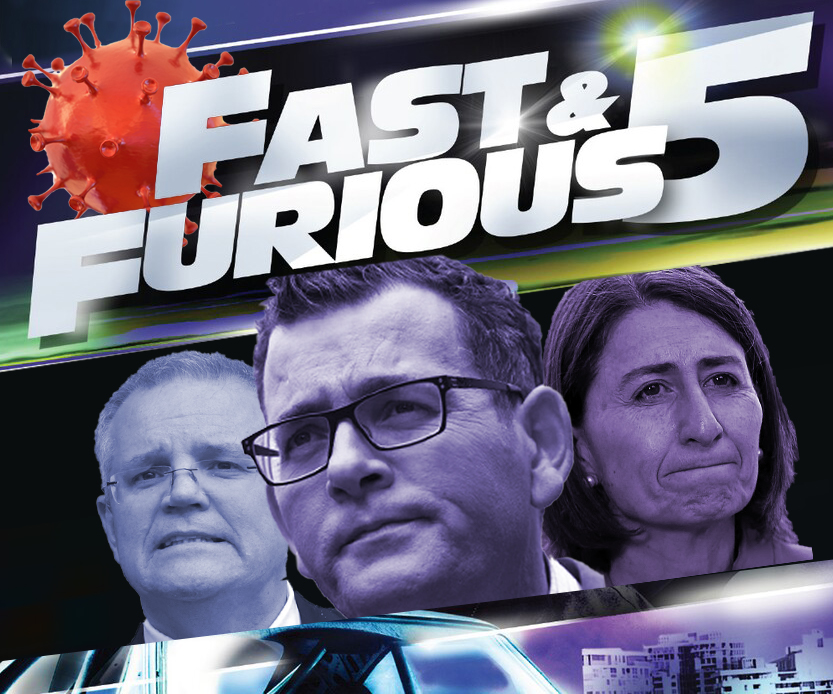 By Dave Milner


---
Victoria's FIFTH (?!?!) lockdown began at midnight Thursday. The prelude hours were depressingly, absurdly familiar. I'd poured a gin by 3.30pm, Daniel Andrews' hundred-and-something Covid presser was on TV at 4.45pm, and by 5.30pm a heckler had screamed "fuck Murdoch" for a national audience. Time is a flat circle. 
"You only get one chance to go hard and go fast… I am not prepared to avoid a five-day lockdown to potentially face a five-month lockdown later," Andrews said while announcing "Locky V" at the season 5 premiere of the Bad TV Show. The heavily unspoken implication: this lockdown is necessary because the coronavirus outbreak in NSW was not contained "hard" and "fast" enough, as demonstrated by multiple states just last month.  
The nation is just 9% fully vaccinated, the worst effort in the developed world, and partisan politics and rabidly unscientific media have chosen to reward recklessness over caution when it comes to lockdowns and coronavirus death. Now Sydney faces a longer lockdown than was once necessary, Melbourne has snapped shut hoping to avoid the same fate, South Australia is getting jumpy, and, most importantly, Covid-19, a deadly, boring, existential crisis of a virus is taking Australian lives again. It's infuriating because it didn't need to be this way.
"Nothing about this virus is fair," Andrews said. "Nothing about the fact that this virus has travelled from Sydney is fair. That's just the reality we face. These cases started in New South Wales, but I'm determined they will end here. We will put this out."
The hubris and mythmaking of Gladys Berejiklian, infallible queen of competence, a god amongst mere mortals in other parties and other states, "the woman who saved Australia", has, in part, led us to this moment. The unhinged mainstream narrative of a freedom-embracing competent capitalist paradise in NSW, and an inept authoritarian police state in Victoria, a miserable place where community transmission of Stockholm Syndrome is a realer threat than coronavirus, has led to a toxic environment where the lessons of Victoria's misery cannot appear to have been learned by the Liberal Party, lest their bullshit unravel entirely.
When asked if she had locked down too slowly given Victoria had quashed a Delta and Kappa outbreak with a Shorty-Sharpy the month before, Berejiklian said, "I don't think it's fair to compare Victoria's and NSW's responses." Seconds before this she had been comparing NSW's response with Victoria's from the start of the second wave in 2020.
The next day, when posed with a sensible question about tightening essential worker definitions "because Victoria did that very successfully," Gladys fired back, "no they didn't". And smirked. Who are these people?! Politics is a brain disease, yet another we need to "live alongside".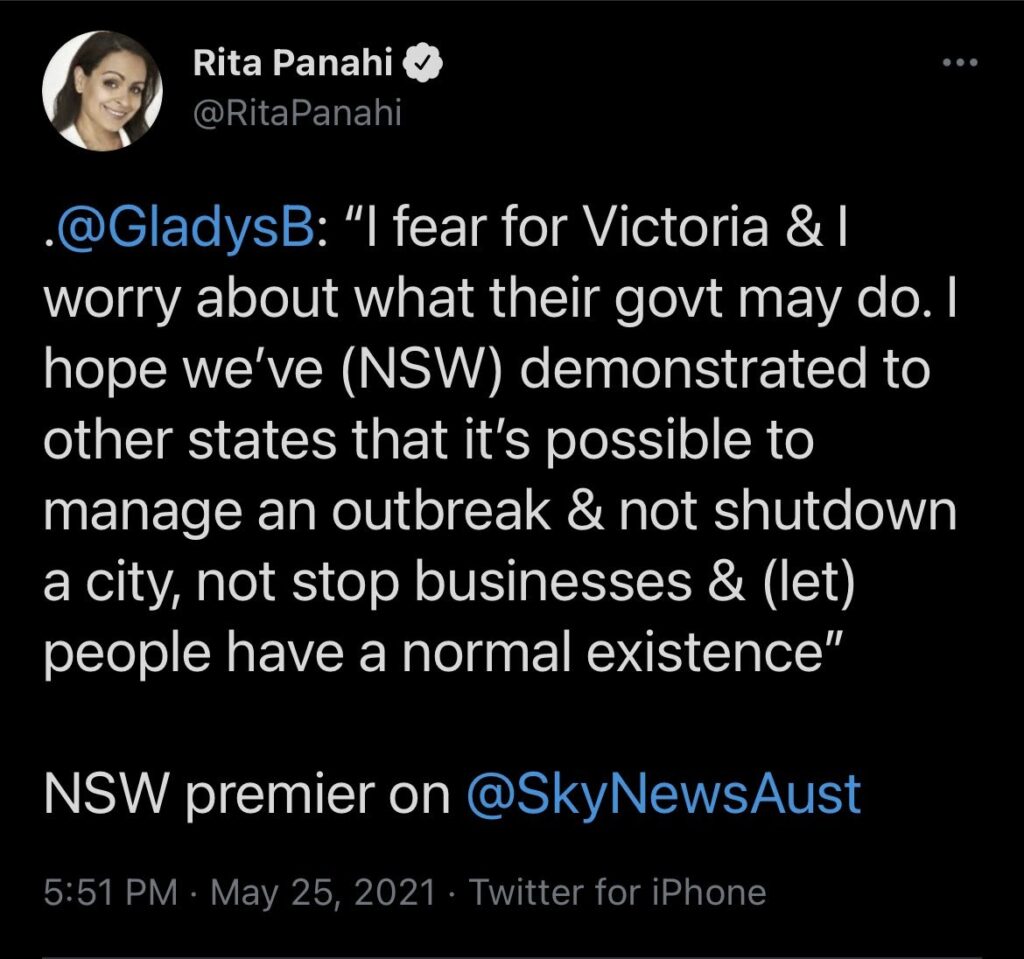 Yes, this is Rita Panahi, one of Murdoch's more unhinged mouthpieces, and I'd usually suggest not using her as a reliable source, but Berejiklian did in fact say this (and this sort of thing all the fucking time). She built her reputation on it. "We've demonstrated in NSW that there's an alternate way to heavy-handed lockdowns," she told a Liberal conference at the end of May. "We made sure that we had the systems in place to be able to weather whatever came our way so that we would never go into lockdown again."
And thus, all too predictably, the premier who staked her reputation on not locking down like those nutty commies down south did not lock down quick enough to protect the rest of the country. And millions of ordinary people in NSW and Victoria, people who have done nothing wrong at all, are paying the price for it.    
And now, during this particular moment, with "Gold Standard" Glady's NSW facing a lengthier and more depressing lockdown than was necessary, and "Dictator" Dan's oppressive imaginary authoritarian regime forced to shut quickly for the FIFTH fucking time because of it, both News Corp and the Liberal Party have announced they're sick of the pandemic being politicised. This is like the CIA saying it's sick of small Latin American nations being destabilised by secret paramilitary groups.
"We are fed up with petty politics, finger-pointing and division," The Herald Sun, The Daily Telegraph, and The Courier Mail's hivemind announced in an eerie monotone on Tuesday this week. This bumped the biggest story in the land, the amazing JobKeeper-subsidised discounts available at Harvey Norman, down to a smaller portion of the front page.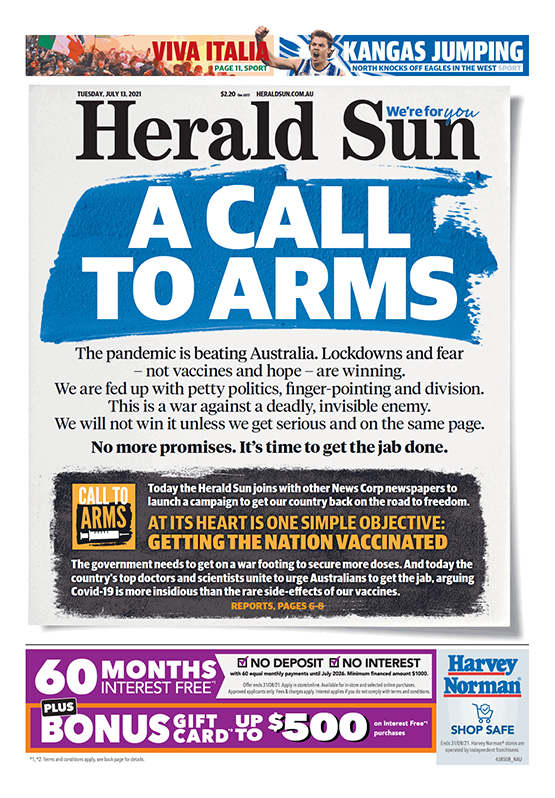 If Melbourne's bed-wettingest newspaper really is going to stop undermining the extraordinarily sensible health advice of medical experts like Brett Sutton or Kerry Chant, and cease framing a real health crisis in rabidly political terms, that's genuinely great.
Less of this shit is definitely a win.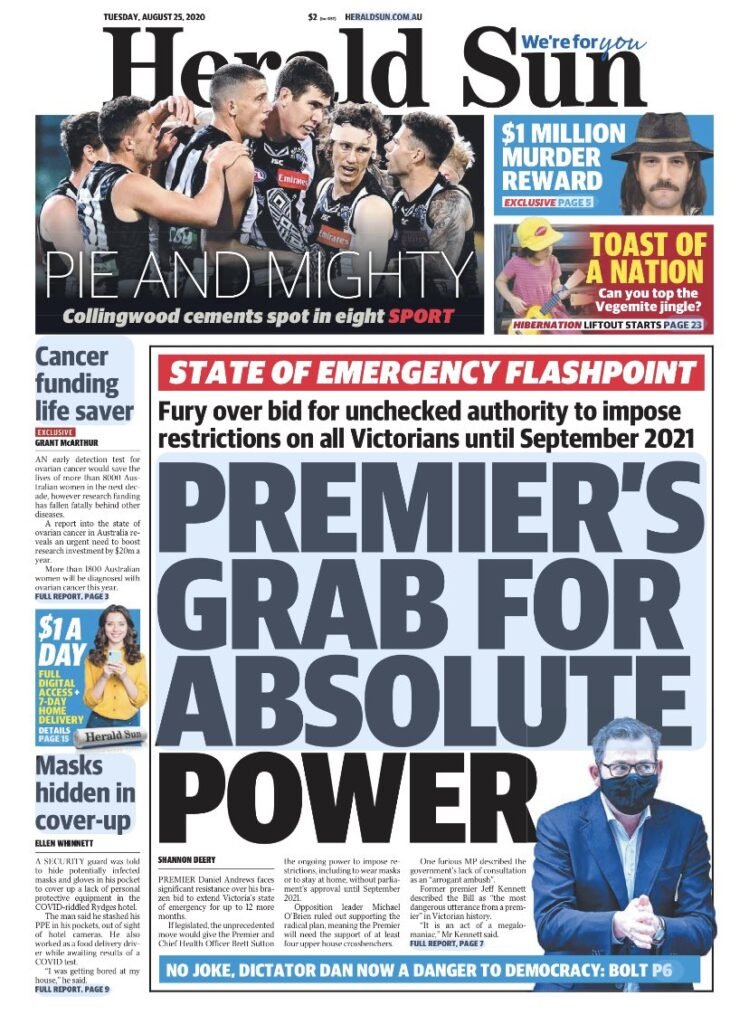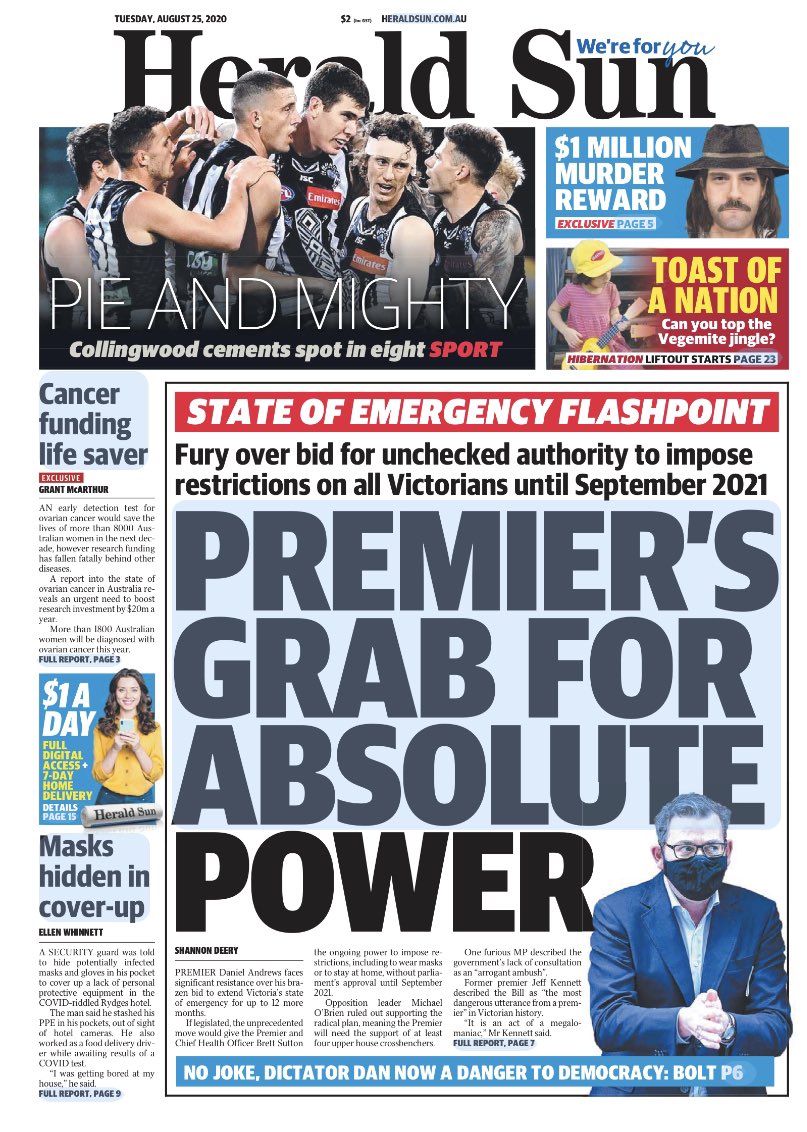 BUT can a Liberal Party fanzine, a conservative protection racket with an editorial stance eerily pro-coronavirus death, a multinational multipronged advocate for rich people and arseholes everywhere, really just stop being all of that? Can this pseudo news organisation really put a year-long campaign of unscientific, irresponsible, unhinged reporting behind it? Can a tiger stop eating meat? Can the Pope join Hillsong? Is it even really NewsCorp if it stops doing NewsCorpy things?
And why now!? Why this moment? Depoliticising the pandemic at this point, Team Blue having fucked up quite obviously and quite disastrously, seems a bit political. But sure, we're all in this together, oi oi oi. 
Josh Frydenberg, Federal Treasurer and shit bloke, hit a similar tone this week, aiming for the high moral ground while simultaneously using the vantage to piss on Victorians from above. He accused the Andrews Government of being "petulant" and "childish" and of "playing politics with the pandemic". 
The gaslighting from the Liberal Party is staggering, almost discombobulating; our pandemic addled brains have been through far too much to keep track of it all. Frydenberg himself has a lengthy record of politicising this pandemic, of sniping his way through Victoria's long lockdown. At various times he accused the Andrews Government of having a "callous indifference" to the loss of jobs, of being behind "the biggest public policy failure by a state government in living memory", as "like watching a car crash in motion", as "making it up as they go", and of being needlessly cruel: "While the numbers are coming down, Daniel Andrews keeps turning the screws".  
Shifting narratives and deflecting is a Morrison Government specialty. And it's ramping up because ultimately that is where the largest fault lies. Gladys did lock down too slowly, this should not even be up for debate, but it was Morrison's arrogance and ineptitude that encouraged this, and his bungling of the vaccine rollout that ultimately undermined the whole project. 
Scott Morrison, Prime Minister of 160 Pfizer-vaccinated private school kids and their immediate surroundings in the wealthiest parts of NSW, has had an extraordinary few weeks. He began the period praising Gladys for not rushing into a lockdown irresponsibly. 
Then, as Sydney's lockdown was extended unavoidably, he disappeared from the national stage for six days to duck the nation's unvaccinated ire. He was replaced on television by a series of talking obfuscations: lesser Cabinet minions, representatives of big business, and even military brass "wargaming" a vaccine rollout strategy or horizon or taskforce or whatever that at some point is just going to have to involve having enough fucking vaccine. 
The next week, it emerged Morrison had not contacted Pfizer's CEO even once to score more jabs. Into this competence vacuum stepped Kevin Rudd, on call for a casual fill-in shift as Prime Minister. A pissing match eventuated. Pfizer issued a weasel-worded statement saying Rudd was not involved in any "contractual negotiations", something Rudd never claimed, and Morrison was briefly allowed to save some face…. before a "spokesperson for Mr Rudd" issued a statement that sounded quite a lot like it came directly from Kevin Rudd: "Mr Rudd would definitely not seek to associate himself with the Australian Government's comprehensively botched vaccine procurement program". This fucking country, man.    
And then yesterday, as whispers of Melbourne's 5th lockdown began to spread, the Prime Minister hit Kyle and Jackie O's esteemed radio show to discuss the pandemic and put to bed some dangerous rumours.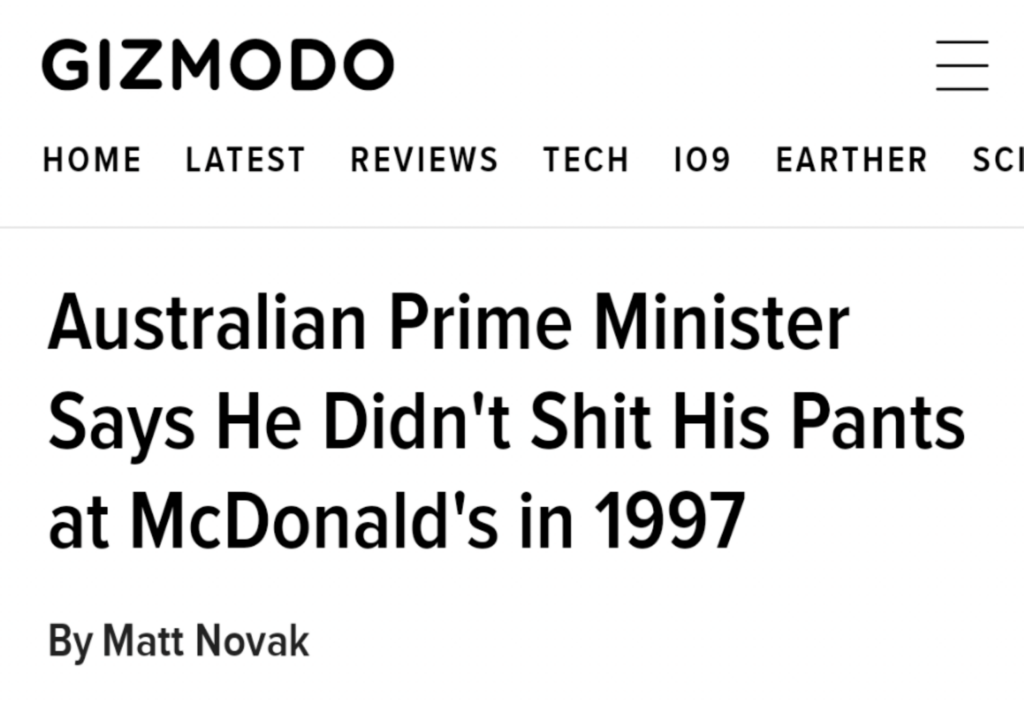 Whether the Prime Minister literally crapped his pants at Engadine Maccas after a Sharks game or not, he has metaphorically crapped them many times since. Australia's vaccine rollout, the OECD's least efficient, is owned by the Morrison Government and the Morrison Government alone. Australia is 9% fully vaccinated. Iceland, the starkly beautiful, eerily gorgeous setting of the criminally underrated Eurovision: The Story of Fire Saga, tops the charts at 70.24% fully vaxxed. No Double Trouble there.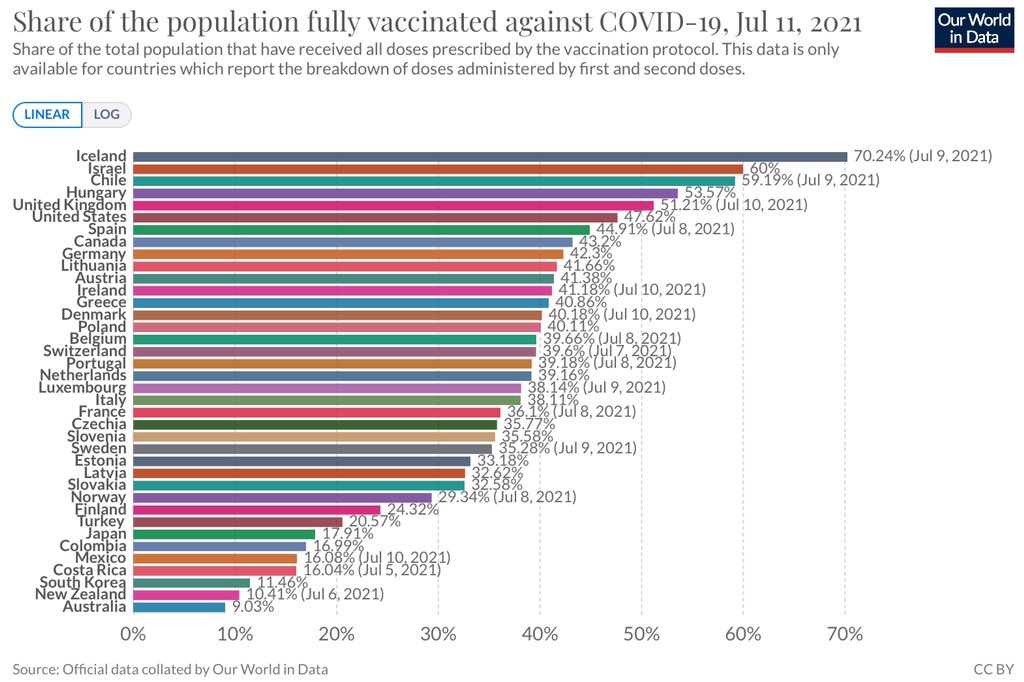 We're not the "prisoners of our success", as Morrison likes to claim. We're victims of The Federal Liberal Party, a decrepit cabal void of worth, cashing out on the way down, brazenly corrupt, brazenly partisan, and stage-managing its way through its miserable time in office. The side of politics that always pretends to be the serious adults in the room, the business people that have risen on merit and merit alone, failed to do remotely adequate business deals for our vaccine supply. Late-capitalism is relentless, its masters cruel and stupid.
And so here we are, yet a-fucking-gain, powerless to do anything but try to comprehend this absurd shitshow. Day drinking through the ennui, home schooling our kids, losing income, losing time – and even the ability to track it accurately – life's other stresses exacerbated by the pandemic and the repeated failures of the Morrison Government and its complicit media arm. 
In Scotty The Vaccinated, we have found an uncontested holder of the title of worst Australian Prime Minister in living memory. Even Tony Abbott looked like he wanted to do the job. In such uncertain times, it's nice to finally have clarity on something. 
Share this story: