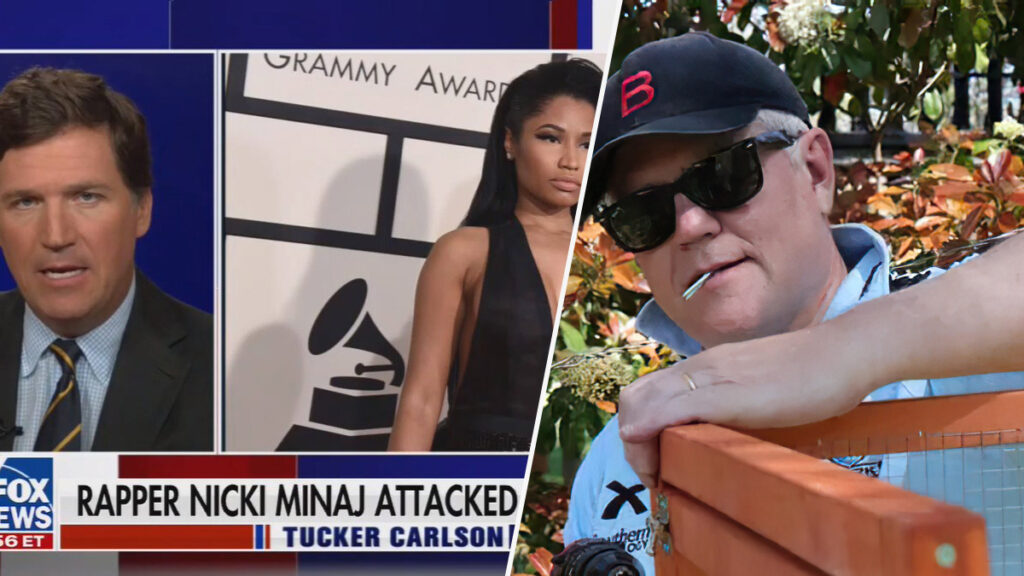 By John Delmenico


---
I have some news that might shock you: fuckwits with power like Scott Morrison and Rupert Murdoch like to distract you from the real issues.
Ok fine, what about this one? 'Scott Morrison is good at marketing'. He may have fucked up at Tourism Australia, but he nails it when it comes to himself.
He is in full control of his narrative. Rupert Murdoch is also in full control of the narrative but this is not about media ownership or Murdoch's influence on the media landscape. It's about how fuckwits trick us into calling them out.
To understand what I am talking about, let's turn to one of my favourite stories of the last month: Nicki Minaj's cousin's friend's ballsack. If you don't know what I am referring, you are in for one hell of a tweet:
My cousin in Trinidad won't get the vaccine cuz his friend got it & became impotent. His testicles became swollen. His friend was weeks away from getting married, now the girl called off the wedding. So just pray on it & make sure you're comfortable with ur decision, not bullied

— Nicki Minaj (@NICKIMINAJ) September 13, 2021
This tweet blew up and received widespread news coverage, especially on Fox News where it started with clips of host Tucker Carlson going viral asking for contact details of Nicki Minaj's cousin's friend, the one with the swollen testicles. Then Nicki cheered him on and it became rolling coverage networkwide for about a week.
If you don't know much about Carlson, he got his start on television by pretending to be an OJ Simpson expert, and, according to Fox News' lawyers, his show is satirical because 'no reasonable person would consider it the news'. Mix those with a bunch or racism and money, you can see why he is the face of a News Corp pseudo-media outlet.
Clips of Carlson constantly go viral because he has the highest rating news program in America and he just says insane far-right bullshit, usually the clips are between 1-2 minutes and part of a 5-10 minute story. But the clips for this issue were different, they were under one minute and self-contained. Which 'coincidentally' is the ideal length and style for a viral clip. You can upload under one minute clips to basically any platform and they are more likely to be watched in full.
The first episode he covered this serious issue, he also had other short self-contained segments like him celebrating people faking their vaccine cards. Almost as if he wanted to go viral and when he did Fox News jumped on it.
That might sound like a ridiculous thing, to actually want virality from people mocking him and pointing out how stupid it is that he was so invested in Nicki Minaj's cousin's friend's alleged space-hopper testicles. But if you were to Google, say, 'Vaccine mandate fox news' and 'Tucker Carlson controversy' those clips and the coverage of them came up as well as Fox News ripping into Biden's proposed vaccine mandates for large businesses, burying two other related stories that would have been the top search results. Ones that could hurt the reputation of a 'news' company that constantly attacks vaccine mandates despite them being popular amongst their own viewers.
When Tucker baited outrage and mockery, Fox News was praised by the White House for having one of the strictest vaccine mandates in the country (even stricter than Biden's) and Tucker did an interview where he admitted to lying on air. He straight up just said, "I lie".
See News Corp knows their audience can overlook the investigation into Nicki Minaj's cousin's friends' big ol' testicles, but admitting to their fanbase that they have been lying for months and fearmongering about something they have implemented themselves is trickier to get around.
Hell, our own News Corp rails against the same stuff and has vaccine/mask policies internally. Of course they do, they are run by rich old people who are at risk. They want to be safe and don't care about the rest of us.
Rupert knows this strategy well. Just like our own Fuckwit-in-Chief Scott Morrison who is a master of this marketing diversion.
See Scotty loves photo-ops, that is something that is widely spoken about all the time.
Like remember this classic photo-op of Scotty building a cubby house?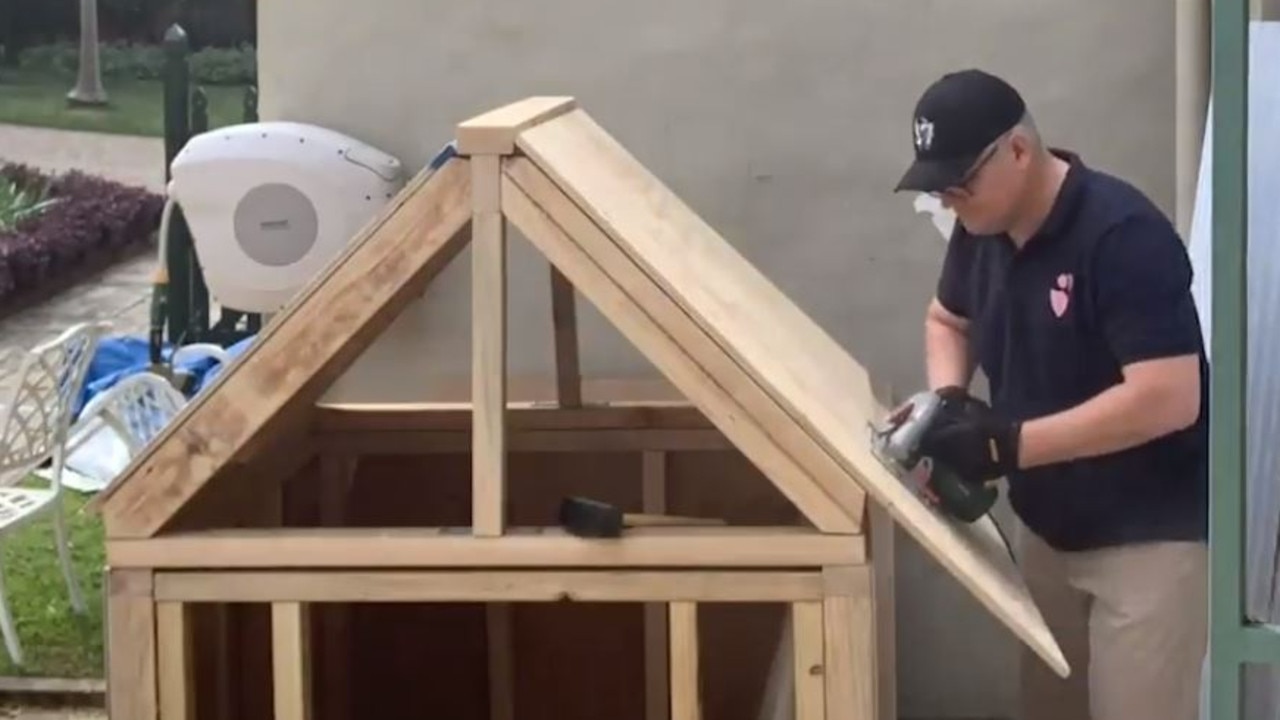 Of course you do, we all do. Everyone had fun mocking it and criticising it. Next question though, what did he 'fail' to distract us from with that photo op? There was 2 scandals at the time, both linked to that photo search algorithm wise, both were big, potentially damaging issues.
Now do you see what I mean about 'ScottyfromMarketing' being a good marketer? By focusing on the distraction attempt we distracted ourselves from the real issue, essentially doing the same thing as if we went 'wow that is a cool photo of the Prime Minister, I can't remember why I was mad at him'.
Morrison knows no-one will get their career ruined by a standard photo-op because every politician does them all the time. So if you actually use it as a criticism, it is easy to brush off as partisan attacks. It can make for a fun laugh but not a solid criticism, much like many of Morrison's 'gaffs'.
Each 'Scottyfrom' hashtag takes up a spot on the trending that could be the actual problem he is trying to hide from. So the people who don't spend all day reading the depressing pit where hope goes to die that we call 'the news' won't see the issue he is hiding from.
In our search to hold him accountable we are giving him a free pass, but it isn't just the public who are doing so by accident. Media professionals across the political spectrum seem to do it a lot.
You see it from left-wing media outlets jumping on the clicks that come from funny mistakes over serious ones, politicians like Kevin Rudd who aim for an easy viral soundbite for criticism instead of the potentially less viral critical assessment of the situation, and from those who relentlessly hunt for social media engagement and weaponize toxic fandoms.
All these partisan actors seem to fall for these tricks every time despite being active in the political discourse. We need to stop empowering them while they essentially empower those who hurt society.
I am not saying to not mock Morrison or Murdoch for being fuckwits: I write most of the articles over at the Chaser so that would put me out of the job. But what you need to do is take that extra second before you turn that mockery into a serious point or push a hashtag that will distract from the sources of information that could actually hurt these horrific people.
Don't focus on the Nicki Minaj's cousin's friends' ballsacks of the world; focus on the dicks using those overblown testicles.
Share this story: