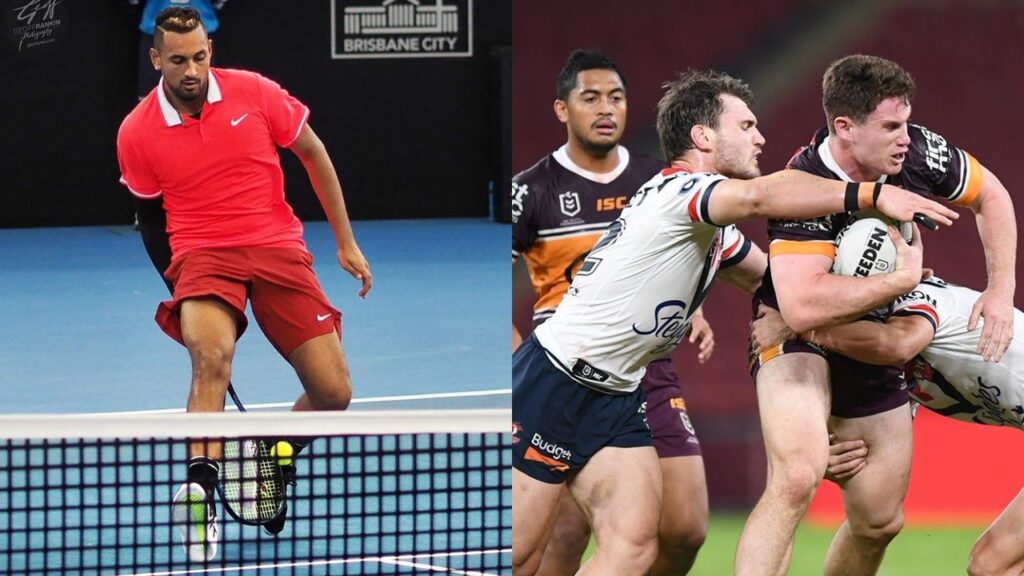 By Zanda Wilson


---
The re-start of the NRL has seen some notably poor performances, but none worse than the Brisbane Broncos during their historic 59-0 shellacking at the hands of the Sydney Roosters overnight at Suncorp Stadium.
The loss was the worst in the club's 32-year history, and saw it cop criticism from fans, pundits, and a surprising source in Nick Kyrgios.
The Aussie tennis player has had his fair share of criticism throughout his career, and has even admitted he often lacks professionalism, but last night's performance didn't hit Kyrgios' low bar for effort.
"Fuck me Broncos, may as well be out there in my Wimbledon whites playing defence on the Roosters," Kygrios said on an Instagram story. "You boys train at all during the quarantine or what? 45-0, fuck me dead."
This is the same Nick Kyrgios that has been fined for, and publicly admitted to tanking at several tournaments.
Pundits and commentators were at a loss to explain why the quality of the game was so low amid a deadly global pandemic that changed life as we know it in the space of just a few short months, and where players can and have been ruled out due to high temperatures just hours before games.
"I have no answer," said Broncos great Gordon Tallis after the game. "I am shocked. I am in shock," added fellow former Bronco Kevin Walters.
The NRL will hope that getting crowds back into stadiums will result in more competitive fixtures, with plans unveiled this week to allow 500 living non-cardboard spectators in just a few weeks time.
Incredibly, the league also has plans to get up to 10,000 fans at games as early as Round 10 in mid-July, with the game's organisers apparently unfazed by the fact that the NSW State Government has categorically ruled out setting any sort of timeline for a fan return.
One can only wonder what level of performances we might have seen had the NRL's quarantine island idea gotten up off the ground.
Share this story: