By Dave Milner


---
Australian federal politics is unequivocally fucked, a rapey, racist, rorty rabble, girt by sea and a truly desensitising degree of intense bullshit. Australia is acclimating to atrophy, learning to live alongside Canberra's disease, the media acting as superspreader event, working symbiotically to incubate exciting new variants of fucked-up. 
Parliament's final sitting week of 2020-II was marked, depressingly fittingly, by growling, barking, woofing, slut shaming, the "standing aside" of Alan Tudge and retirement of Christian Porter – shrouded by accusations of abuse and rape respectively – plus two existentially troubling and wholly disingenuous policy debates. 
The first skewed discussion, the right to online anonymity – one of the last protections afforded to powerless people – was misrepresented as a fight against anonymous trolls and bullies by the nation's most powerful identified trolls and bullies: LNP politicians and Murdoch hacks. The ALP, incapable of making a nuanced point without being reamed by the western world's worst media, is unwilling to risk being painted as against "online safety", so it will not take the principled stand someone desperately needs to here. This, too, is a symptom of a system rotting from within.
The second debate, the right for religions to discriminate religiously – not historically something religions have needed any help with whatsoever – remains a pet project for our Pentecostal PM, and at least serves as proof Morrison is capable of being interested in something. 
It's truly inspiring stuff.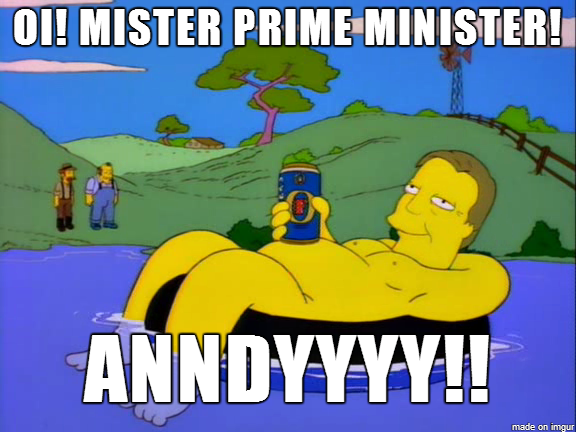 This wall of miasma wafted out before the backdrop of sex discrimination commissioner Kate Jenkins' report into the workplace culture of Parliament House, the findings of which can be summarised as "really quite rapey".
Her report is unflinching in its findings: 51% of workers at Parliament have experienced "at least one incident of bullying, sexual harassment or actual or attempted sexual assault", and 77% of have witnessed or are aware of at least one incident. 28 recommendations have been made, from rethinking alcohol policy to addressing gender imbalance. It doesn't specifically call out barnyard noises on the Senate floor, but it is covered by the overall vibe of the thing.
David Van, the Liberal Senator accused of Old McDonald-ing Jaquie Lambie this week, denies it. He blamed his mask for the confusion, claiming he was only saying rude things and not growling them. Greens Senator Sarah Hanson-Young said, "I don't know who is responsible for [the noises] but it's inappropriate, and if we are going to change the culture from the top, that means all of us." ALP Senator Penny Wong focussed on the cowardice of the growl-and-run: "Gee, you're tough aren't you? You're happy to dish it out, but not happy to take responsibility. I mean really, growling." Peter Dutton resisted the urge to describe this one as a he said, she said situation.  
With defamation laws being what they are in Australia, and Morrison Government MPs increasingly lawsuit-happy whenever their feelings are hurt, ensconced by blind trusts and anonymous benefactors – anonymity is fine when you're rich and not criticising the Government – all I feel comfortable saying is that barking at a woman sounds like the sort of thing that MIGHT happen inside a building where the prayer room doubles as a fuck pad, where the Prime Minister circled wagons around two alleged rapists, where feminist protestors were told it was grouse they weren't being shot, the site of the ministerial jizz desk, and, not all that long ago, the place where Brittany Higgins was raped and a concerted effort to cover it up as a pesky federal election loomed played out. Growling doesn't seem all that far-fetched!!
[Legal, can you check that last para? And, do we have a blind trust yet? You're The Chaser, as if there isn't a rich idiot somewhere that enjoys your stupid stunts? A guy like Clive Palmer, with a dinosaur theme park, but, you know, not Clive Palmer?]
It's quite a lot.  
It is one of those days (and there's been too many over the last 12 months) where I have felt genuine, deep seated revulsion, being here, being adjacent to this #auspol

— Katharine Murphy (@murpharoo) November 30, 2021
The nation finds itself in this state of decrepitude because unchecked power is always abused. 
Australia does not have a federal corruption watchdog. The most obvious, most no-shit explanation for this is that the Morrison Government would not benefit from having a corruption watchdog… because of all the corruption. 
Just a staggering amount of the stuff, really! 
And yet much of our media – itself meant to serve as a corruption watchdog – exerts a staggering amount of energy into normalising the fuckedness. From breakfast television, our dose of casual racism to wash the Weet-bix down, to the nation's newspapers, Gladys Berejiklian, "the woman who saved Australia" (and ignored CHO Kerry Chant's health advice during the Delta wave, but no one cares because she's not Daniel Andrews), serves as the counter-argument to any accountability and consequence. 
We all become accustomed to the bullshit we are submerged in – anyone that's escaped a toxic relationship can attest to this, but only after the clarity of detachment and distance. To the neoliberal mind, oversight is an ideological affront, something only Commies would put up with. In this environment, the honourless are trusted with the honour system, billions of dollars and the future on the line. 
For many reasons this is an important moment in the long, repetitive, stupid arc of human history. On a species-level timeline, much hinges on here and now. It's not going great!
And atop this rot sits Scott Morrison, a man best observed through unfocused eyes, through gaps in fingers, through the fog that protects a battered mind. Being present in his presence is unpleasant. He is a walking, talking, huck-hucking trauma trigger for many; the type of prop late-capitalism likes to plop in front of flags and microphones; ineffectual, self-interested, vapid, a stooge, a liar, and spiritually committed to oafish stasis, to oligarchical plunder, to the way things are.      
We are a nation entrapped by the myths we tell ourselves about ourselves. History curriculums are designed to help us sleep at night, to wash away sins like a soothing song. Our higher education sector is decimated by design, 40,000 university jobs evaporating into the pandemic mist with barely a stutter from anyone important enough to do anything, while 40,000 coal jobs have been dressed up as sacrosanct for decades, a smokescreen for climate inaction, for climate crime. We are conditioned to love our coal and disdain our brains.
This occurs through Murdoch media's relentless ramming of Liberal Party propaganda into our eyeholes. Through the ABC's enthusiastic embrace of the false balance doctrine – "tonight on Q&A, a climate scientist and a psychopath from the IPA!" – and sucking Sydney off whenever it can. Through NineFax's desperate and overwhelmingly successful race to be worse than it used to be. All of this adds up to a horseshoe to the part of the skull containing our grasp on reality, an intravenous drip of dickhead. 
For next year to be better than this year, everything needs to change. The collision of a once in a 100-year global pandemic, historic levels of wealth inequality, climate collapse, rampant misogyny, and the corrupt, uninterested political leadership that inevitably emerged at the ass-end of neoliberalism's upwards wealth redistribution project has been a fucking nightmare to behold. The hope we must cling onto is the fact real, objective reality has become so obviously discordant with the version of reality spun out of Canberra people are starting to notice. 
Share this story: