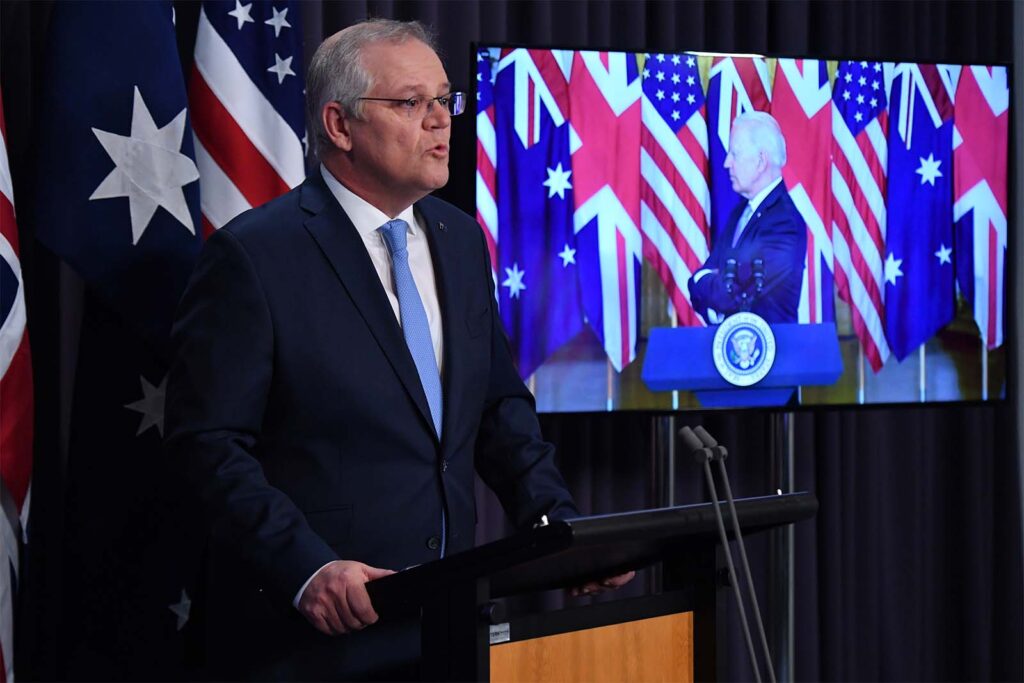 By Rose Lane


---
As you might have gathered this week, the Australian Government will splash almost any amount of cash on almost anything remotely to do with killing people in other countries, including remotely killing people: $7 billion has been flagged for unmanned drones over the next decade. The 2021-22 Defence budget is a staggering $44.6 billion. Of course, that's chump change compared to the "over $90 billion" that the nuclear submarines will cost, but it's fair to say it's boom time in Australia for anyone who's in the business of making up high-tech ways to kill people.
One reason for this is that Australia now has ambitions to become a major arms manufacturer and exporter in the coming decades. Presumably exporting these tools (toys?) of death will help offset the cost of buying all those submarines?
In June, Brisbane hosted the  Land Forces Expo – a major exhibition of arms dealers from all around the world.  I went along, to see up close all the wonderful killing toys on the market for those with a mind to invade other countries and presumably inflict the occasional human rights abuse along the way.
Karen Middleton says this decision was taken after former Defence Minister Christopher Pyne became embarrassed at an Arms expo in Abu Dhabi back in 2017. The Crown Prince announced he intended to visit the Australian stand. Imagine how poor Christopher must have felt when he had to find chairs and beg for coffee from the Austrians! Pyne was so mortified that when he got home he made the decision to spend a lot more money promoting our defence exports. Presumably some of that was spent on a coffee machine. 
As you might expect, the Land Forces Expo attracted its fair share of protestors. As I approached the police line protecting attendees from the rabble outside banging pots, pans, blowing vuvuzelas, and shouting into megaphones, one of the protesters enquired: "Are you going in there too are you? Well, fuck you! Have a good time!"
Inside I was confronted with more white men in white shirts, navy blazers, and RM Williams boots in one place than I'd ever seen before. But it was the men in green, black, and red uniforms that were most confronting. They were from Kopassus, the Indonesian special forces regiment. The West Papuans among the protesters told me later they were "chilled" to see them entering the expo. This is because, as The Guardian reported in May, "Kopassus… have been accused of terrorising, torturing and murdering the people of West Papua". 
In 2013, three Bushmaster armoured vehicles, made in Bendigo by Thales Australia, (Slogan: "Building a Future We Can All Trust"), were sold to Kopassus. Australia cut ties with Kopassus after the atrocities committed in East Timor, but kissed and made up after they were responsible for finding and bringing to justice the perpetrators of the Bali bombings. Aussies love going to Bali, but who gives a shit about East Timor or West Papua if they don't have beach clubs, cheap massages, or hot yoga?
Kopassus' presence at Land Forces was essentially Australia turning a blind eye to human rights abuses in West Papua, in the hope that it can make bank out of selling to the perps. The cynic might think this sounds an awful lot like a contravention of the Arms Trade Treaty, to which Australia is a signatory, which states that a country mustn't sell arms to another country if it knows those arms could be used to commit human rights violations. But strict adherence to this treaty would mean Australia couldn't sell arms to Indonesia, Israel, or Saudi Arabia, three of the countries it currently deals with. So…yeah. 
Stacey Henderson, lecturer in law at Adelaide Uni, says: "This all comes down to interpretation of the treaty obligations…The requirement of 'knowledge at the time of authorisation' is a legal standard which requires knowledge of the existence of a causal link between the transfer and a forthcoming atrocity crime". Which begs the question: why sign the bloody thing if you're only going to find ways around it?
One of the thrills of attending this expo was I got to shake the cold dead hand of Brendan Nelson, former Liberal party leader and advisory board member of Thales, now president of Boeing Australia (Slogan: "Connected, Protected, Enabled, Lethal"). When I asked him what he thought of the protesters outside, he quipped that they were fortunate to be able to protest safely in a country protected by our brave men and women in uniform, the same patronising trope Morrison trotted out in response to the massive women's marches back in March. When I asked Nelson what he thought about Australia selling weapons to Indonesia, he said it was about honouring the risks taken by investors and that companies were obliged to maximise dividends. When I mentioned those weapons being used in human rights abuses in West Papua, he began backing away, saying he couldn't comment.
And now that Peter Dutton, Mr Potato Head, has taken over the defence portfolio, there is likely to be even less comment. It may be because I can only picture Shaun Micallef's character, the snarling Brion Pegmatite, when I think of Peter Dutton, but it's hard not to get the impression that he's itching for a war so he can ramp up production and put all those new toys to good use, especially when he and Mike Pezzulo can't resist the urge to talk up the threat of China. Certainly he is thickening the smoke screen around what the defence portfolio is up to having, according the The Guardian, advised his staff to be "rigidly flexible" in refusing interviews and providing written responses limited to three paragraphs.
When I contacted the Department of State Development, responsible for hosting the Land Forces Expo, to request an interview, this was denied in favour of submitting questions to which I received written replies. The answers either redirected me to other agencies or talked up the jobs creation aspect. Except when asked how much the State Government had invested in Land Forces: "The sponsorship amount to be paid for the 2021 event is confidential under the terms of the sponsorship agreement". Amy McMahon, Greens member for South Brisbane where the expo was held, told me she could not get an answer to this question from the Labor government either.
Sadly, I missed Christopher Pyne, whose ambitions had set this whole expo in motion, and who is now, surprise surprise, a lobbyist for arms dealers. His car was jumped on by protesters as it pulled up, and in the ensuing brawl with police, he managed to get away and scamper up the steps unfettered like, as John Birmingham calls him, a "superannuated vertical corgi". It turns out that Pyne has been cozying up to those in the arms trade for years, well before his embarrassment in front of the Crown Prince
John Lyons, in his book "A Balcony Over Jerusalem", describes a banquet he attended at the King David Hotel in Jerusalem in 2014 at which  Pyne, among other Australian politicians, was present. The banquet was sponsored by Elbit, an Israeli weapons manufacturer, which this year engaged Pyne's lobbying firm to gain a bigger stake in Australia's massively increased military budget. Elbit are alleged to have "battle-tested" their hardware on the Palestinians. This particular junket was just one of many paid for by Melbourne property developer and Israel-sympathiser Albert Dadon. Everyone from Kevin Rudd and Julia Gillard to Bronwyn Bishop and Tim Wilson have taken advantage of Dadon's generosity by accepting his organised trips to Israel, but according to Lyons, the "most enthusiastic" was Christopher Pyne "who has taken seven trips to Israel, four of which were organised by Dadon".
Isn't it amazing that a story of embarrassment and shame can have such a profitable end? What a lucky man Christopher Pyne is.
Share this story: