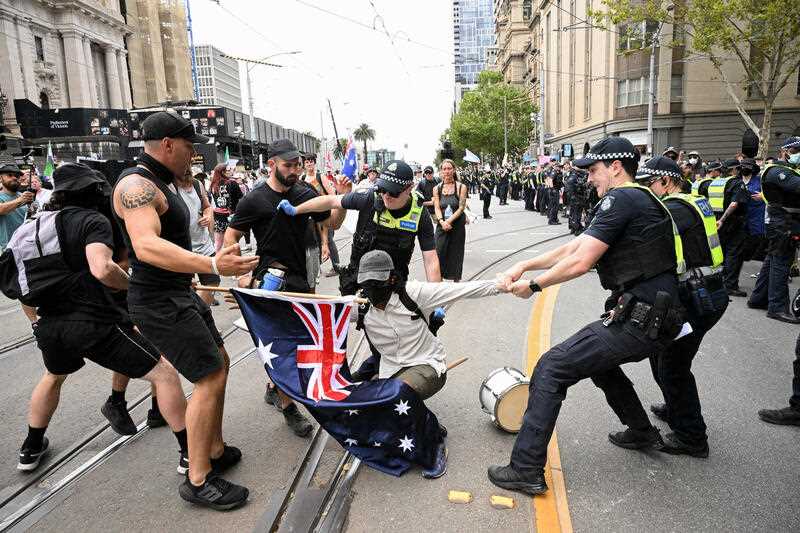 By John Delmenico


---
Australia recently saw the public return of desperate and dangerous bigots we once naively thought gone for good. I do not mean Kyle Sandilands on Australian Idol. I am referring to the Nazis saluting and salivating outside Victoria's Parliament.
For many this was a shocking moment, humanity's worst villains trying to reboot themselves. Once more, I'm not talking about Idol. But, just like Sandilands resurrecting a show noone wanted that he was fired from for making a comment about sex to a minor after she told her story of being raped, the return of these nazis has been brewing for a while; empowered by supportive media and political allies, as well as those who fail to stand up against hatred.
In recent years, there has been a dramatic rise in transphobic rhetoric. This is because evil cockroaches want to normalise 'debate' and 'discourse' around bigotry. To understand why, we need to accept that the far-right are desperate for what they refer to as 'culture wars'. The interchangeable victims of these culture wars are simply collateral; Culture Warriors don't care which vulnerable people they hurt – because they hate them – just as long as they are hurting someone. 
Coming off the shitstorm they caused in America with an orchestrated campaign against 'critical race theory', led by a far-right loser Christopher Rufo (a fellow at the Manhattan Institute and regular guest of Tucker Carlson's televised insane asylum), the far-right turned their attention to transphobia, hoping to stoke similar division within discussions of inequality and acceptance of the LGBTQ+ community. Rufo himself suggested using the term 'radical gender theory' to make it sound spooky and paint drag queens as akin to 'trans strippers', to sexualise drag thus bringing sexualisation and abuse into conversations around transgender rights. 
Rufo made this suggestion a few years ago. During a shitty assignment of watching a month of Sky After Dark, I probably heard "radical gender theory" every day. It was basically Rita Panahi's catchphrase. And lo and behold, where are we today….
Mass amplification of transphobes, both in Australia and abroad. Kellie-Jay Keen-Minshull AKA 'Posie Parker', a fucking awful bigoted grifter, with the financial backing of conservative American think tank, CPAC, came to Australia to hold a series of rallies – like the one attended by Nazis two weekends back. 
When it was announced that Parker would be coming to Australia, there were calls for Andrew Giles, Minister for Immigration, to stop her coming to spread hatred. The concerns about her weren't just her transphobic lies, but also her direct ties to the far-right, including previously being welcoming to members of The Proud Boys, a white supremacist terrorist group full of incels. Giles refused to act, something the Nazis who saluted at Parliament are probably thankful for.
When Parker arrived in Australia, the media ridiculously dubbed her a 'controversial women's rights activist'. Four words that gave her legitimacy she frankly doesn't deserve; she's reviled rather than controversial, and does not appear to hold any actual feminist views. It's why anti-trans activists demand to be called 'pro-women' activists, because calling them what they are shines a light on their awfulness. After attracting obligatory calls of 'you're a horrible bigot, get fucked' Parker, predictably, went on the same bullshit campaign transphobes always go on, claiming to be 'silenced' for standing up to 'protect women'.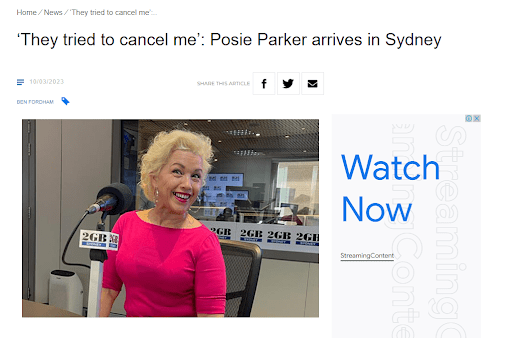 Parker has demonstrated just how much she values the 'safety of women' by going on Ben Fordham's show, a man who last year came out against affirmative consent laws because they would mean people would 'need to give clear consent' before sex, and took issue with the fact that consent laws apply to married couples. Legally I am not allowed to say he is pro-rape, I dont think.
Her work trying to restrict access to contraceptives, birth control and abortions isn't really a big win for 'protecting women' either!
And so, with far-right backing, the government refusing to act, and the media downplaying how badly she needs to fuck off, she pulled open the curtin for Nazis to take center stage in Australia.
To paraphrase Dan Andrews, the images from the event were fucked.
Look what the pigs let happen in front of Parliament House. Same Nazis from the Grampians. #posieparker you can't hide, you got Nazis on your side #acab #FCKNAZIS pic.twitter.com/1xSorCmRrF

— WACA (@akaWACA) March 18, 2023
We saw a violent group built on white supremacy and anti-LGBTQ+ bigotry feel empowered to violently attack trans-rights activists, all in a bid to clear room for Nazis to walk through while saluting Hitler. Calling out Victoria Police's actions was infuriatingly absent from Andrews' statement.
It shouldn't have taken Nazis crawling out of their parents' basements for people to realise how cartoonishly evil these idiot transphobes are, but now we have clearly hit a point where we must take a stand and say FUCK NAZIS and FUCK TRANSPHOBES.
Moving forward, there are two things we need to do immediately: show support to our trans friends and call out the bullshit attempts from the transphobes to not reap what they so hatefully sowed.
Since the rally, transphobes have done everything to gaslight and DARVO their way out of this, proving once and for all that this meme doesn't actually happen in real life: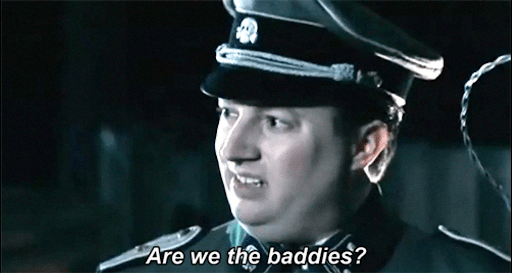 They tried denying that they met the Nazis with open arms, which hilariously has upset their Nazi buddies who disproved that claim, then they attacked those who criticised them by saying 'you support paedos unlike us and our nazi buddies' (they don't mean real paedos, they are just being bigots), and now they're endlessly letting shit flow out of their mouths like a nightmare enema.
'Nazis only came because they hate the antifa protesters!' But they hate them for the same reason you do and they said they came to support you? 'Nazis actually support LGBTQI+ people not us' You mean the ones they say they hate and want to kill? 'Well, maybe they are crisis actors posing as Nazis' Actors with Nazi tattoos? 'We all know real Nazis would never wear matching black outfits' What like what the Gestapo wore? 'Fine well, Nazis coming to support us has helped your side, which means you are benefitting from Nazis, so who are the real evil ones?' Still you, you nazi sympathising pieces of shit!
The clusterfuck of conflicting excuses from anti-trans activists has pushed an idea that Nazis coming to an event just happens, like the unspeakable shit that comes after a big night out, but I've been to a lot of events, including the recent All About Women fest, and never once saw a Nazi. So in the style of every other online outlet:
LIFE HACK: Don't want Nazis supporting your event? Stop agreeing with them you assholes!
The final nail in the coffin proving none of this is about 'protecting women' is the fact that Parker had an exclusive interview with one of her supporters, tin foil hat enthusiast Avi Yemini, to 'prove' she doesn't have support from violent Nazis. I guess by 'protecting women' she doesn't mean from a chopping board thrown at her by her abusive husband, who once called himself a "proud jewish Nazi" at a rally.
As the aftermath continues, has any outlet retracted their 'both-sides' approach to covering when activists said Parker would attract Nazis to her rally? Has Giles apologised for denying the request to block her hate speech? Has SBS apologised for recently having failed wannabe politician Katherine Deves on to discuss whether 'political correctness has gone too far' in calling out attacks on the trans community? Has Ben Fordham apologised for platforming Parker, or even for being the 'milkshake consent video' of people?
While we're at it, has the Prime Minister apologised for needing almost 4 full days and national criticism to make a half-assed denouncement that included 'both-sidesing' the way people acted at the Nazi rally? I know he was just far too busy hanging out with Joe Hockey and throwing our money at our American overlords to grow a spine on Nazis being bad.
Sadly, just like with Australian Idol, Nazis have returned in force thanks to evil scum lurking in the background and a refusal by many to take a stand against bigotry. But, just like with Idol, which is now rushing to end early due to poor ratings, if we take a stand against them and against silence by actively fighting against their bigotry, we can get them all to fuck right off.
Share this story: